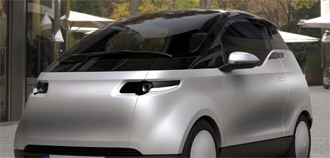 15 October 2019
A compact all-electric car from Uniti, engineered and manufactured in the UK, is on track to be sold in Sweden and the UK next year.
The minimalist car weighs just 600kg and has an unusual three-seat interior design, with the driving seat placed in the centre front and two passenger seats in the back. It offers 155L of boot space, which can be expanded by folding down the passenger seats. An electrochromic sunroof can be adjusted from being totally opaque to fully transparent, which also darkens while the car is stationary to help keep the interior cool.
It will initially be available in a limited selection of colours: Scandium, Graphite and Titanium.
The car is unlocked and started with an app rather than a key. The steering wheel is surrounded by two large touchscreens running Google's Android Automotive OS, as well as buttons for 'drive', 'neutral' and 'reverse'.
According to Uniti, the car can reach a top speed of 120km/h and accelerates from 0-50km/hr in just 4.1 seconds, reaching 100km/h in 9.9 seconds. It automatically switches between 'City' and 'Boost' modes, which optimise efficiency or responsiveness respectively.
The car will have a functional range of 150km for the 12kWh battery model or 300km for the 24kWh battery model, with relatively fast charging (20 per cent to 80 per cent in nine minutes on a 50kW charger for the 12kWh model or 17 minutes for the 24kWh model). While these ranges are yet to be confirmed in real-world use tests, on paper at least they suggest that the 24kWh Uniti One could offer more mileage on a single charge than the Honda e, Mini Electric, Ford Focus Electric or Fiat 500e.
Uniti plans to launch the Uniti One in mid-2020 in Sweden and the UK. It is currently going through virtual crash testing to ensure that it is safe for passengers.
The list RRP will be £18,600, coming down to £15,100 with the government's electric car grant. Customers who preorder a Uniti One before December will be offered free software updates for life.
The Uniti One electric car was designed in Sweden by EV start-up Uniti, although development, engineering and production occurs at a small hub in Norfolk. Uniti plans to set up a London office in the near future.
"The UK's approach to vehicle production, with its focus on light-weighting and innovation in advanced materials, is an ideal model for electric car production globally," said Lewis Horne, Uniti CEO.
The past few years have proved difficult for the UK automotive industry, with continued uncertainty regarding the UK's future relationship with the EU and EU trading partners; the Society of Motor Manufacturers and Traders (SMMT) reported a 20 per cent fall in car production in the first half of 2019, citing fears of a no-deal Brexit.
While BMW has stated that it would build electric versions of the classic Mini in its Oxfordshire-based factory, Honda has announced that it will close its Swindon factory in 2021, Ford will close its Bridgend engine plant in 2020, and Nissan has relocated its X-Trail manufacturing plans from Sunderland to Japan.
Last week, Dyson terminated its electric car venture – having already invested £2.5bn in the project since 2015 – citing a lack of commercial viability for the vehicle.
Source: E&T