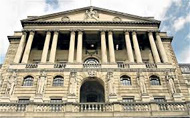 30 January 2020
The Bank of England Monetary Policy Committee (MPC) met today and in Mark Carney's final interest rate meeting as governor. They delivered a blow to Prime Minister Boris Johnson by reducing the growth forecasts for the next three years. However, the MPC voted by a majority of 7-2 to hold off from cutting interest rates amid signs of a recent pick-up in the UK's economy.
In its quarterly forecast the Bank said it expected the economy to have flatlined at the end of last year and made a significant downgrade to the growth outlook to 0.8 per cent in 2020, 1.4 per cent in 2021 and 1.7 per cent in 2022. It had previously predicted growth of 1.2 per cent 1.8 per cent and 2 per cent respectively.
Carney said that fewer companies in the UK were worried about Brexit, but added a cautionary note saying, "to be clear these are still early days and it's less of a case of so far so good than so far good enough. Although the global economy looks to be recovering, caution is warranted. Evidence of a pick-up in growth is not yet widespread."
UK GDP growth slowed last year, reflecting weaker global growth and elevated Brexit uncertainties. Output is expected to have been flat in 2019 Q4. Growth in regular pay has fallen back to around 3½%, though unit labour costs have continued to grow at rates above those consistent with meeting the inflation target in the medium term. CPI inflation fell to 1.3% in December, core CPI inflation declined to 1.4%, and core services inflation is below its target-consistent range.  The unemployment rate has remained low and stable, and employment growth has picked up. Following its annual reassessment of supply-side conditions, the Committee judges that there has been a somewhat greater margin of spare capacity in the economy over recent years, which has been exerting downward pressure on domestically generated inflation.  
Reacting to today's news, Rain Newton-Smith, chief economist at the CBI, said: "Signs of a rebound in sentiment since the start of the new decade were clearly enough to keep interest rates on hold.
"Providing that Brexit uncertainty continues to wane – and we see steady progress in the negotiations with the EU – we should see some improvement in economic growth over the course of this year. It's vital we find a pathway to a deal that works for all sectors of the economy, so that businesses get the clarity they need to further invest, create jobs and grow.
"A deal that ultimately protects people and prosperity will unlock the UK economy's long-term potential."
Tej Parikh, Chief Economist at the Institute of Directors, said: "There is mounting evidence that the UK economy may have experienced a bit of a post-election bounce, so on balance the Bank made the right call to hold interest rates for now.
"On the bigger picture, withholding a rate cut today does also afford the Bank greater wiggle-room in the future if uncertainty eats into business activity and the fiscal boost fails to sufficiently stimulate the economy."
The MPC's next forecast is due on 26 March 2020.