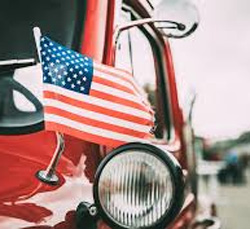 10 April 2020
Auto insurance companies in the United States of America, including Allstate, American Family, State Farm, Progressive and Liberty Mutual, have said they will return millions of dollars back to policyholders.
As hundreds of millions of Americans stay at home and drive significantly less due to the COVID-19 pandemic lockdown, the nation's largest auto insurance companies have agreed that there's no good reason to ask people to pay normal rates when they are not driving.
In a statement released on Monday, Allstate announced it would return $600 million in premiums to customers, saying that most policyholders will get back 15% of their premium in April and May. "This is fair because less driving means fewer accidents," said Tom Wilson, Allstate chairman, president and CEO, in a statement.
The company said it will also offer payment relief to eligible customers and will expand coverage for drivers who use their vehicles to make deliveries. Allstate also will offer free identity protection for the rest of the year to all U.S. residents.
Meanwhile, American Family Insurance said it will return about $200 million to its policyholders because "they're driving less and experiencing fewer claims," said chief operating officer Telisa Yancy in a statement.
The company said they will make a payment of $50 per vehicle covered by one of their policies. The average relief check will be $100, said American Family.
Liberty Mutual and Safeco customers will receive 15% refunds on two months of their premiums, Liberty Mutual said in a press release Tuesday, noting it will return $250 million to consumers. The company will also pause cancellations for not paying, and late fees.
"Today, more than ever, we recognize the uncertainty and financial challenges our customers are facing," said Liberty Mutual Chairman and CEO David Long in a statement. "We remain dedicated to serving our customers during this unprecedented pandemic."
On Wednesday, USAA said members with auto insurance policies will get a 20% credit on two months of premiums, totaling $520 million. The company will also halt fees for late and returned payments, allow members to stop non-payment cancellations, and simplify the process for setting up payment arrangements.
Progressive also said on Wednesday that it will provide approximately $1 billion to drivers because of fewer claims. The company said auto policy customers can potentially receive a 20% credit in April and May.
Travelers is giving auto insurance customers a 15 percent credit on April and May premiums. It will also provide billing relief for all U.S. customers through May 15 and will not cancel coverage for nonpayment during that time.
On Friday, after exploring how to best return some premium to customers, State Farm said it will return up to $2 billion in premiums, saying its auto customers can expect to earn a credit of 25% on their premium between March 20 through May 31.
"We insure more cars than anyone and we see from our claims activity people are driving less," said Michael L. Tipsord, chairman, president and CEO of State Farm, in a statement. "This dividend is one of the ways we're working to help our customers during this unprecedented situation."
Motorcycles
On Tuesday, Geico said auto and motorcycle policyholders will receive a 15% credit. The auto insurer estimates the benefit to its customers will be worth about $2.5 billion.
Geico cites shelter-in-place orders that have "reduced driving significantly" as a reason for the credits.
"This ongoing crisis has widespread effects that will linger," said Geico president and CEO Todd Combs in a statement. "That is why we wanted to give this credit for at least six months." Geico will also halt cancellation of coverage because of non-payments.
Geico is the latest auto insurer to give drivers their money back as they remain off the road due to the pandemic.