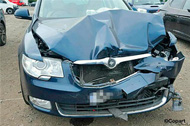 22 November 2019
Auto Express has released an article whereby they say:
On the back of our exclusive investigation, organisations are now collaborating to find 'missing' damage-repaired cars
The car insurance industry is working with the Driver and Vehicle Licensing Agency (DVLA) to close database gaps that allow written-offs cars to pass history checks with a clean bill of health.
In March this year, we discovered that the crash-damaged history of a number of cars sold at salvage auction as Cat S and Cat N write-offs was not being detected by provenance checks run by HPI and Experian.
Now the Motor Insurers' Bureau (MIB) says it is working with the DVLA, which holds a more comprehensive database of write-offs, to tackle this issue. The MIB admits it didn't know the true scale of the problem – which affects tens of thousands of vehicles a year – until Auto Express highlighted the problem.
The issue relates to a database called the Motor Insurance Anti Fraud and Theft Register (MIAFTR), which is run by the MIB. It's used by HPI and Experian to determine if a car has been written off.
During the 2016/17 and 2017/18 financial years, however, 168,000 fewer written-off vehicles were put on MIAFTR compared with the DVLA's database of repairable write-offs. It is unlikely these vehicles, if put back on the road, would be detected as such by provenance checks.
"We knew there were gaps. But no, we didn't understand the true scale of it", Ben Fletcher, the MIB's chief customer officer, told Auto Express. "Since the article ran, and as part of our general work, we have engaged with the DVLA and we are actively talking to them about what the size of the gap is between the two [databases], and is there an opportunity to close that gap by sharing information?" He said discussions with the DVLA are in "early stages" but have been ongoing "for the last couple of months".
Fletcher explained that MIAFTR "was set up a long time ago by insurers… to share information about the history of the cars they were insuring. At some part in its history… the likes of HPI and Experian said 'Can we have access to this data? Because this data is one part of a component that will help for our vehicle provenance checks': It's being used to help provide a product, but MIAFTR was never designed to be a definitive register of every vehicle which has been damaged beyond repair."
The MIB confirmed HPI and Experian are the only two provenance companies with access to MIAFTR, with other history-checkers using data provided by these two firms.
Fletcher added: "The people providing the vehicle provenance checks understand the issues. They provide guarantees in the circumstances where there is a problem."
How do these gaps appear?
There are a number of reasons for vehicles not to be on MIAFTR. Cars with third-party cover that aren't declared 'total losses' can be missing, as can cars written off using paper records. The MIB also says fleet operators with large excesses may buy a new car rather than claim a total loss; these cars can also be missing. If such a vehicle is subsequently repaired, provenance checks may not detect its true history.
What do the other organisations say?
DVLA: It confirmed discussions with the MIB over these issues. We asked why the organisation can't simply open its write-off database to third-party companies like HPI and Experian, given that private parking firms can access other DVLA datasets. The organisation simply said there are "no plans" to do this.
HPI: It "works tirelessly to improve the coverage and accuracy of its data and is carrying out increasingly more checks year on year, and as such is identifying a growing number of vehicles hitting the register as write-offs". The firm highlighted that buyers are protected by a guarantee of up to £30,000 if it supplies inaccurate or incomplete information; however, this guarantee is capped at £15,000 if it's discovered that a vehicle has been written-off.
Experian: Its position on the subject hasn't changed since March, when the firm said it "will continue to work with our data and insurance industry partners" to "establish the circumstances" behind the vehicles highlighted in our article.
Crashed cars written-off by insurers are being repaired and sold to unsuspecting motorists
Cars that have been deemed insurance write-offs following serious accidents are passing vehicle history checks with a clean bill of health and being sold to unsuspecting motorists, Auto Express can exclusively reveal.
Vehicle history checks are relied on by countless buyers every year to reveal whether a car is subject to outstanding finance, has mileage irregularities, has been stolen, has previously been scrapped or has been deemed an insurance write-off.
But the damaged cars you see in these photographs were sold at a salvage auction, having been classified as 'Cat S' – meaning they were written off after sustaining serious, structural accident damage, and were only allowed back on the road after having been properly repaired.
Despite this, all of these models passed the vehicle history checks offered by both HPI and Experian AutoCheck, and were being marketed to consumers as never having been written off.
Auto Express found 10 cars that had been sold at a salvage auction as declared Cat S write-offs, making a note of the VIN plates displayed in the salvage listings. We paid for HPI and Experian AutoCheck history checks, cross-referencing VINs and registration plates with the reports. Some of the cars generated alerts for outstanding finance or mileage discrepancies, but not one check from either HPI or Experian flagged any of these cars as an insurance write-off.Auto Express was alerted to this issue by a reader who uncovered inconsistencies with history-checking companies after buying a used car he discovered had previously been sold via a salvage auction. As well as a conventional history check, the reader used a company called www.vcheck.uk, which crosschecks a car's write-off status against salvage auction records.
After Auto Express learned of this problem, they contacted vcheck and were provided with a number of cars that had raised similar concerns.
Source: Auto Express write-off scandal