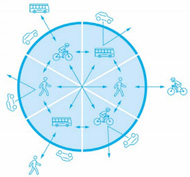 13 January 2020
Birmingham City Council has published plans that would lead to private cars being banned from taking "through trips" across city centre, under plans to cut pollution.
The draft Birmingham Transport Plan was being launched at 9am on Monday, January 13.
The document will set out the city's radical vision for transport for the next decade.
The top priority will be to do more to deal with the city's air quality crisis as Birmingham prepares for a population explosion, as experts predict there will be 1.2 million extra journeys a day by 2031 in the city.
Within the plan, vehicles would be able to drive into the city, but would have to go back out to the ring road to access other areas.
The plan is designed to reduce pollution by encouraging the greater use of public transport, walking and cycling.
Public transport would be the "preferred choice" for travelling in and out of the city and city centre streets would be pedestrianised and integrated with public transport.
Cllr Waseem Zaffar, transport and environment chief, described the 36-page masterplan as 'radical, bold but realistic' and warned it would take a significant 'cultural change' in Birmingham if people were to get on board and adapt successfully.
If it is backed by the council's cabinet on 21 January, a consultation on the plan will begin on 28 January.