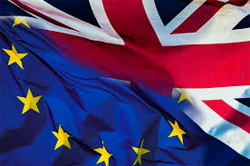 6 March 2019
As Downing Street desperately tries to reassure the business community over Brexit, representatives for the car body repair industry have sounded alarm bells about how a no-deal brexit would affect the sector.
Chris Weeks, director of the National Body Repair Association (NBRA), has issued a stark warning following a representative group of industry stakeholders came together to debate how a worst-case scenario of prolonged parts delays might play out and together to collaborate on ideas that might help mitigate the negative effects being absorbed by any one party.
"Our members, and body repairers in general, are acutely aware that if a no-deal brexit were to happen and business was to continue as per the common agreements that are in place, the impact would be felt very quickly. If the import delays were prolonged by 3 to 4 weeks for example without parts availability, the consequences to our car body repairers could be dire."
The group considered what would start to happen in a workshop environment if our current processes / procedures and agreements carried on unchanged in the event of import problems at our borders / ports. It was considered that after a three-week period, many car bodyshops would run out of working capital and face closure. By week 4, it was widely felt that even repairers with strong balance sheets would be in financial difficulties.
The conversation that surrounded the simulated timeline identified the key problems that would be faced, namely:-
1. Parts Availability (unable to complete or start a high proportion of repairs)
2. Mobility (reduced ability to provide courtesy / rental vehicles)
3. Contract Terms (inability to meet contracted SLAs / inability to contracted services / reduced future terms due to failure)
4. Cash and Solvency (reduced flow of cash into repairers due to reduced completed work)
5. Parts Price Increases (an issue for insurers and network managers)
The full coverage of NBRA's position and advice can be viewed here.
Separately, Graham O'Neill, CEO of distribution company ACIS, has written to the bodyshop materials manufacturers and suppliers about their post-Brexit strategies which, they have confirmed, include product-bonded stockpiling in Europe and the UK.
"Nearly all of the paint brands used in the UK crash repair market are imported. This includes premium brands from the likes of PPG, Akzo Nobel, BASF and Axalta, along with the secondary brands from the plethora of manufacturers that produce them," said Graham.
"In addition to paint, many bodyshop consumable products such as masking tape, plastic sheeting and even gloves and coveralls are imported. The majority of these imports come from within the EU and we are in regular dialogue with our supply partners about how they intend to cope, whatever the final result of Brexit turns out to be.
"Unlike the car parts business, we do not need to operate on a just-in-time basis, but we do have to guarantee the integrity of the supply chain and to communicate to our customers if any disruption is likely to occur.
"One supplier has informed us of the stockpiling of £1.2 million worth of product in a new UK warehouse while another has established its own Brexit 'taskforce' that involves external consultants to ensure minimum disruption to the supply landscape.
"Another supplier has agreed to provide more stock, but it all comes down to the sector having to meticulously plan and potentially invest more to minimise any disruption to key-to-key times as vehicles could end up clogging up bays in bodyshops awaiting supplies," he added.
"No one knows as yet what the outcome of negotiations will be so the uncertainty means that business has to make its own contingencies or risk major disruption."