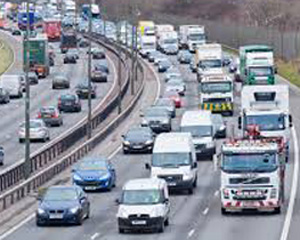 9 March 2020
London was the most congested UK city with drivers losing 149 hours in 2019
Belfast (112 hours), Bristol (103 hours), Edinburgh (98 hours) and Manchester (92 hours) complete the top five
Cardiff saw the biggest growth in congestion, increasing 5% to 87 hours per driver, whilst Nottingham's congestion decreased by 17%, the biggest drop in the UK top 10
A404/A501, A4 and M25, the most congested UK corridors, lost commuters 44, 40 and 36 hours, respectively. Outside the Capital, the A38 in Birmingham caused the biggest delays (32 hours a year)
Edinburgh and London tie for title of U.K. slowest city, with last mile speeds of 10 MPH
London was the only U.K. city in the top 10 most congested cities worldwide, ranking eighth overall
A study by INRIX, Inc., a global leader in transportation analytics and connected car services, today published the 2019 INRIX Global Traffic Scorecard, which identified, analyzed and ranked congestion and mobility trends in more than 900 cities, across 43 countries. To reflect an increasingly diverse mobility landscape, the 2019 Global Traffic Scorecard includes both public transport and biking metrics for the first time.
In the UK, the 2019 Global Traffic Scorecard analyzed the severity of congestion across the country's top 102 urban areas. The findings show, on average, Brits wasted 115 hours in congestion this year, costing the country £6.9 billion in 2019, an average of £894 per driver.
London ranked as the most congested city in the country where the average commuter sat idle for 149 hours per year to congestion. Across the capital, the total damage to the economy exceeded £4.9bn. Belfast (112 hours), Bristol (103 hours), Edinburgh (98 hours) and Manchester (92 hours) complete the top five.
Trevor Reed, transportation analyst at INRIX, said: "Congestion costs drivers, businesses and the UK economy billions of pounds each year. With the rising price of motoring, consumers are getting hit hardest. With the UK budget due soon, hopefully the Chancellor will take the opportunity to address this issue with continued investments in transport networks.
One new initiative is already in place, with Boris Johnson recently approving the controversial High Speed 2 rail network. The first phase of the route will run between London and Birmingham, with a second phase going to Manchester and Leeds. Commenting on the impact it will have on congestion, Trevor Reed, continues:
"HS2 has the potential to decrease car use in the long run by creating a seamless network of rail connections between the UK's employment hubs."