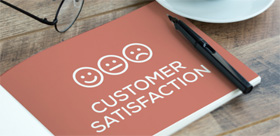 21 February 2019
What are the latest trends in motor insurance brands as viewed by the UK's motoring public?
It is important to emphasise that customer satisfaction is not influenced by a singular driver — it consists of a combination of variables that act together. It is not exclusive to insurance, and therefore keeping your customers happy will ultimately make or break that relationship.
With customer satisfaction, the experience with that brand as a whole is assessed, says Consumer Intelligence including the various touchpoints throughout the customer journey: product, price and experience.
Delivering against those expectations at each touchpoint is no easy task. It requires persistent focus and the ability to adapt to the ever changing, modern consumer.
Consumer Intelligence ask insurance customers to rate their level of customer satisfaction from companies that they have bought insurance from.
Using this unique data, we are delighted to announce the top 10 motor insurance company brands in the UK for customer satisfaction, as voted for by consumers.
Top 10 motor insurance brands for customer satisfaction*
A-Plan
Co-op Insurance
Direct Line
Lloyds Bank
LV=
M&S Bank
More Than
NFU Mutual
Quotemehappy.com
Saga
*Listed alphabetically
The Consumer Intelligence comprehensive insurance focussed customer survey, called IBT, allows us to talk to nearly 50,000 home and motor and insurance customers every year to find out what they think of their insurance provider.
As part of the survey, customers rated their insurer based on the question "how would you rate your overall satisfaction with your current home insurance provider?" on a scale of 1 to 10, with 10 being "completely satisfied".
The results are in…
For the top 10 companies, the average scores were 8.2 for motor. Across the market as a whole, we saw average scores of 8, with the top performing brand scoring 8.4 and 8.7 respectively. It should be noted that for motor, we see a slight dip in customer satisfaction scores amongst the top 10 brands, indicating a shift in service levels.
Whilst it is clear that these brands are certainly doing something right, there are ways in which brands who haven't fared so well this year can improve their customer satisfaction.
More specifically, we have identified three key areas to help your company go from delivering an average customer experience to a great one:
1. Ensure you are delivering on your brand values
2. Provide clear terms and conditions to help customers understand what is and isn't covered in their policy
3. Make sure your partners are performing in line with your standards
The research shows that the majority of customers who leave their motor insurer because of a bad experience, do not tell their insurer why they have left — they do, however, tell their friends and family!
It is therefore never safe to assume that long-term customers will stay loyal to a motor insurance brand if the company does not give them a reason to.
Source: Consumer Intelligence