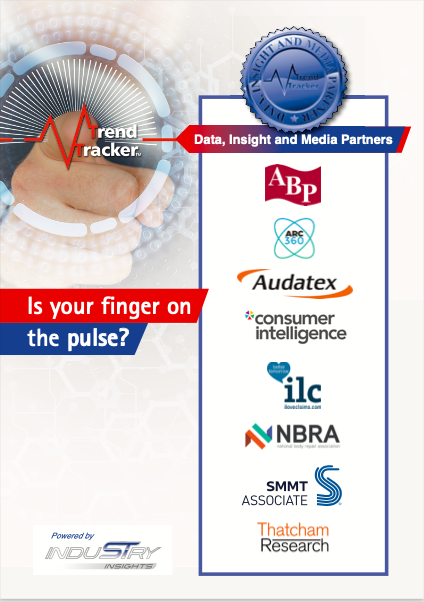 28 May 2021
As Trend Tracker reveals a brand-new series of quarterly detailed industry reports, the first of which entitled 'Emerging from COVID-19' is due out next week, the research firm has confirmed Consumer Intelligence, NBRA, Thatcham Research, the SMMT and Solera Audatex (including CAP HPI), as Data and Insight Partners.
Paul Sell, Associate Director of Industry Insights, new owners of Trend Tracker explained: "Both Audatex and the SMMT are leaders in industry data, giving us access to information not freely available to others. That allows Trend Tracker the ability to provide unique views to Subscribers."
Paul said it was important to "bring the voice of the consumer" into Trend Tracker's Papers and discussions, so bringing Consumer Intelligence on board was an important step, as was securing the support of NBRA, collaborating with Trend Tracker to "bring the voice of the repairer".
Finally, on the vital support of Thatcham Research, Paul said: "Thatcham Research bring incredible thought leadership and are highly respects across the industry, critical to further endorse the intelligence and up-to-the-minute trend analysis for all our customers."
Industry Insights' Managing Director Steve Thompson added: "I would like to thank Consumer Intelligence, Thatcham Research, the SMMT and Audatex; the value they will bring to Trend Tracker is immense. Securing their support 'early days' is a significant boost to our profile as we take the business forward."
Additionally, Trend Tracker remains agnostic in the industry and a trusted Independent source of information, working with many of the leading media partners, ILC, ARC360 and ABP.
The 75-page 'Emerging from COVID-19' report explores how the motor claims market has been directly affected by COVID-19, the ongoing challenges and opportunities within the industry along with a wider national outlook. It provides latest relevant, credible, and reliable data along with forecasted trends and, said Paul, "will have something for everyone; whether focus on the economy, the insurance sector or the bodyshop sector".
It includes the results of a UK-wide survey encompassing more than 200 repair centres from right across the UK, the report chronicles the impact on capacity, revenue, people and borrowings from a year which has, so far, removed over three quarters of a million repairs. Crucially, Emerging from COVID analyses this data, along with significant supporting research to consider what the future will hold.