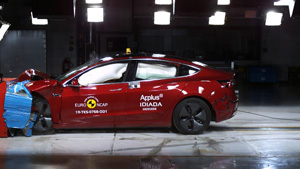 3 July 2019
•   Tesla commended for its 94% Safety Assist score and five-star rating
•   Škoda Scala scores an impressive five-stars for all-round safety performance
•   Mercedes-Benz B Class and Mercedes-Benz GLA achieve five-star ratings
•   DS 3 Crossback and Kia Ceed achieve five-stars, when optional safety pack is purchased
Euro NCAP releases safety ratings of six new cars today. Four of those have achieved five stars: the much talked about Tesla Model 3, the new Škoda Scala, the Mercedes-Benz B-Class and the latest GLE from the same stable. The new Kia Ceed and crossover SUV DS 3 Crossback rated four stars with equipment offered as standard but both make it into five stars territory when equipped with an optional safety pack.
The Tesla Model 3 made a strong debut with a perfect score in the frontal offset deformable barrier crash test, a mainstay of Euro NCAP's assessment since its inception in 1997. Its performance in the Safety Assist tests particularly impressed, thanks to its superb driver assistance systems like lane support, speed assist and autonomous emergency braking. The Tesla's 94 percent score in 2019 Safety Assist tests is the best yet under Euro NCAP's most recent protocol.
Another novice, Škoda's new Scala, positioned between consumer favourites Fabia and Octavia, just pips the Model 3 in overall crash performance, with a 97 percent score in Adult Occupant Protection. This firmly puts the Scala amongst the top small-family cars tested by Euro NCAP for this part of the assessment, along with the recently tested Mercedes-Benz A-Class and Mazda 3.
With B-Class and GLE ratings, Mercedes-Benz is continuing its winning streak with its 10th and 11th solid 5-star result since 2014, underscoring that its safety reputation still is non-negotiable.
Potential buyers of the KIA Ceed and DS 3 Crossback should inquire about the optional safety equipment on offer as Euro NCAP tests have shown that their respective "Advanced Driver Assistance" and "Active Safety Brake" packs will deliver better real-world safety performance.
Michiel van Ratingen said, "It's great to see cars doing so well. Our tests get tougher and tougher, and cars continue to perform well, which means that car-buyers are getting an ever-safer range of vehicles to choose from. Next year, we up the ante again, with better tests of driver-assistance systems, a completely new frontal crash test and more attention to protection in side crashes. These new tests should help to make the roads safer for everyone".
Matthew Avery, Director of Research, Thatcham Research comments, "The Tesla Model 3 achieved one of the highest Safety Assist scores we have seen to date. Its Collision Avoidance Assist system is first class, with its Autonomous Emergency Braking and Forward Collision Warning systems showing high levels of performance.
"Tesla has done a great job of playing the structural benefits of an electric vehicle to its advantage. Impact performance is enhanced by the absence of a mechanical engine and the car's low centre of gravity. The Tesla Model 3 really benefits from its all electric-architecture."
Avery added, "Tesla has made a virtue of safety in its marketing and it is great to see a car now living up to that promise. It would be exciting if Tesla delivered the same benefits for drivers of older models via over-the-air updates."