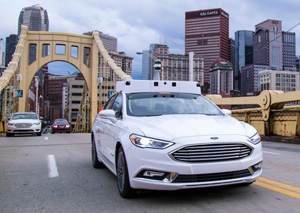 12 July 2019
Following January's agreement whereby Ford and Volkswagen (VW) would join forces to build mid-sized pickup trucks and commercial vehicles, today in a news conference in New York, the two automotive powerhouses have announced they are extending their global collaboration to include vehicle autonomy and electrification.
The move comes as vehicle manufacturers seek scale to combat falling car sales in Europe, USA and China as well as increasing investment demands to develop new technologies such as battery-electric vehicles (BEVs) and hybrid cars to meet tightening environmental emissions rules. Toyota has joined forces with Subaru and Suzuki/Mazda to invest in BEVs, while the Renault-Nissan alliance, despite recent difficulties, claims it benefits both carmakers.
Today's collaboration has been widely anticipated and will include Volkswagen AG investing $2.6 billion in Argo AI, the autonomous vehicle startup based in Pittsburgh that practically no one had heard of until Ford's $1 billion investment in 2017. VW will invest $1 billion in cash and an additional $1.6 billion in assets that include the auto giant's Munich-based Autonomous Intelligent Driving (AID) team, which will be absorbed by Argo. After the deal officially goes through, Argo's post-money valuation will be over $7 billion*. VW has also committed to purchase $500 million in Argo shares over the next three years.
Argo, which operates as an independent enterprise, focuses on what is known as "Level 4" autonomy, vehicles capable of operating without a driver, albeit in "geo-fenced" areas with well-marked roads and in reasonably good weather conditions. Argo already has test fleets operating in five cities in the USA, namely Pittsburgh, Detroit, Palo Alto, Miami and Washington DC.
VW and Ford each will hold two seats on the Argo board — representing a voting share of just under 30% each — while Argo will hold three seats, representing just over 40%.
The enormous costs associated the development of battery-electric and self-driving autonomous vehicles are inevitable, hence manufacturers joining forces as the new technologies are expected to dramatically reshape the global automotive industry over the coming decades. Therefore, sharing costs is seen as a major plus, as is the scale of their combined operations which, in 2018, sold about 18 million vehicles worldwide.
Ford's CEO Jim Hackett said they and Volkswagen will remain "independent and fiercely competitive in the marketplace," adding that "unlocking the synergies across a range of areas allows us to showcase the power of our global alliance in this era of smart vehicles for a smart world."
The announcement also highlights the way Ford and Volkswagen plan to work together on the development of battery-electric vehicles, an area in which global automakers are expected to invest $225 billion from 2019 to 2023, according to the AlixPartners study.
VW's ambitions are broad, ambitious and cover the 12-brand group, which includes Audi, Porsche and Bentley. So far has committed 9 billion euros, about $10 billion, to EV development. Their CEO, Herbert Diess, increased the sales forecast for the coming decade from 15 million to 22 million battery-electric vehicles earlier in the year. They plan to have about 50 electric vehicles in production by 2025.
Ford, meanwhile, is spending $11 billion on its electric vehicle program by 2022. It's launching its first long-range BEV, a high-performance SUV, later this year. A mix of plug-in hybrids and all-electric models will follow. That now will include "at least one high-volume fully electric vehicle in Europe by 2023," it was said in the joint statement, based on the modular MEB platform Volkswagen developed to underpin the majority of its future battery cars.
*In comparison, the value of Cruise jumped to $19 billion earlier this year after it attracted more than $6 billion in investments from SoftBank Group <9984.T>, Honda Motor Co <7267.T> and T. Rowe Price .
The value of ride services firm Uber Technologies' Advanced Technologies Group climbed to more than $7 billion earlier this year after SoftBank, Toyota Motor Corp <7203.T> and Denso Corp <6902.T> invested $1 billion.
Those valuations are dwarfed by the estimates for Waymo, which is widely acknowledged as the sector leader. Morgan Stanley values Waymo at up to $175 billion, while Jefferies values the company at up to $250 billion.
Both estimates take into account Waymo's nascent robotaxi business and potential future revenue streams from a delivery service and from streamed in-vehicle services, including e-commerce and infotainment.