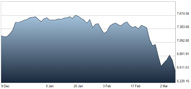 9 March 2020
Trading in US shares was briefly suspended after sharp falls led to an automatic halt in the selling and buying of stocks.
Once trading resumed, the three major US stock indexes were down over 6%.
The move follows dramatic falls globally with shares facing the worst day since the 2008 financial crisis.
A row between Russia and Saudi Arabia saw oil prices plunge by 20%, hitting markets already reeling from fears of the impact of the coronavirus.
The day has been dubbed "Black Monday" by analysts who described the market reaction as "utter carnage".
Trading on the top three indexes in the US were halted for 15 minutes. When trading resumed 15 minutes later, shares continued to fall, before appearing to stabilise.
The current system was put in place in 2013. Today is the first time a halt has been triggered under the current rules.
The oil price fell nearly 30% to $31.14 on Monday, its biggest single-day fall since the start of the first Gulf war in 1991, before recovering slightly to trade 20% lower.
"It shows a level of nervousness in the market which I haven't seen in a long time," said Justin Urquhart-Stewart, co-founder of Seven Investment Management.
Investors are selling stocks at such a rate because they cannot quantify what Saudi Arabia and Russia might do, he said.
The UK falls came after stock markets around the world saw dramatic falls. In Europe, the main stock market indexes in France, Germany and Spain were all trading over 7% lower. Norway – a major oil exporter – saw its main stock exchange fall over 12%.
Among the fallers:
Oil firms saw the biggest falls, with shares in Exxon, Chevron, Shell and BP down by about 15%, while Premier Oil saw its shares more than halve in value
Miners also saw steep declines, with De Beers owner Anglo American and BHP Group all down more than 10%
In Frankfurt, Deutsche Bank led the declines, falling 12%, followed by Mercedes-Benz maker Daimler, down 10%
Similarly in Paris, banks such as Crédit Agricole and Société Générale fell 10%
The Russian rouble fell over 8%, on track for its worst one-day drop since December 2014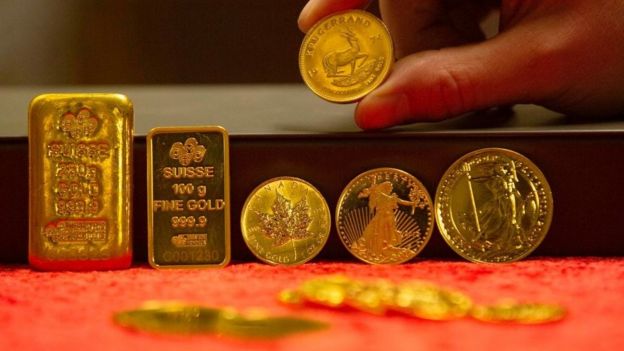 Among the winners:
Gold hit a seven-year high, trading at $1,700 per ounce
In a historic moment, the yields on benchmark gilts for two-, three-, four-, six- and seven-year maturities turned negative when the market opened, but have since turned positive again. This means investors will lose money from holding the bond.
Earlier on Monday, Asian stock markets had also fallen sharply, with Japan's Nikkei 225 index down 5% while Australia's ASX 200 slumped 7.3% – its biggest daily drop since 2008.
In China, the benchmark Shanghai Composite fell 3%, while in Hong Kong, the Hang Seng index sank 4.2%.
As well as the slump in the oil price, Asian investors also reacted to a steep fall in Chinese exports, and figures showing the Japanese economy shrinking at a faster pace than expected.
Source: BBC News