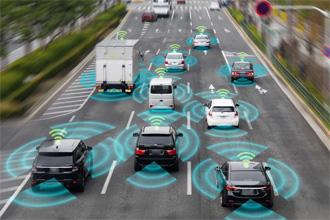 30 August 2019
Dr Stephen Evans, undoubtedly one of the UK's most experienced, and arguably one of the foremost experts in the credit-hire market has published his latest article today; it focuses on how the emergence of connected cars may affect the credit hire market.  Here is the article in full:
Introduction
Regrettably, as vehicle manufacturers ("OEMs") focus on the development of autonomous self-driving vehicles and the evolution of the connected car, it's hard to look at the future without facing a large amount of jargon. Accordingly, I offer some definitions that might make this article easier to navigate.
The first assumption is that most people know exactly what an autonomous self-driving car is. In fact, there are very few cars available today that are capable of driving themselves without any human input but developing such vehicles is the aim of some manufacturers like the US OEM, Tesla or Silicon Valley technical companies like Google.
The connected car is more the subject of this article than the autonomous car. The connected car is regarded as one of the 'internet of things' which has evolved over recent years to enable inanimate objects or appliances to use the internet to communicate with other devices. In very simple terms, connected cars use the internet to permit the driver and/or the franchised dealer to have some form of positive interaction with the vehicle with the aim of improving the consumer driving experience. As an example, the connected car allows a driver to control certain items remotely using his smartphone as well as allowing the car, or its driver, to access the internet to utilise a service required by the car in real-time, like traffic information, or to establish contact between the car and the franchised dealer or OEM if something goes wrong.  The connected car can, for example, ensure that your satellite navigation system links to real time road traffic monitoring to ensure that you can be alerted about congestion on your route ahead and offered an alternate and less congested route that can be loaded straight into your satellite navigation system.
There is little limit on the range of developments available for the connected car. There is also limited intelligence about how the connected car will change a consumer's driving and ownership experience and so this article explores how technological developments have occurred in other sectors, specifically with regard to how existing legacy businesses have been disintermediated or removed from the market by virtue of digital advancement. It then attempts to predict what impact similar advances in the connected car will have on the automotive sector and specifically on the credit-hire market.
Technology and disintermediation
Assessing the potential impact of innovation and technology presents some challenges, the most difficult of which is predicting the inflection point, the point when the line plotting sales on a graph turns towards the vertical. It usually occurs with innovations or product development when the interest goes beyond being a fad or novelty. It is the point when the item being observed becomes 'the next big thing' because it offers functionality or value to the purchaser which is capable of satisfying a significant latent demand at an acceptable price point. It generally occurs when mass consumer traction is generated from an anticipated 'game-changing' user experience.
The image below demonstrates the theory visually. The narrative that follows explains, with some real-world examples, how a fad eventually becomes the next big thing.
The first-generation mobile telephone
For those old enough to remember, and even those who aren't, I'd ask you to consider the introduction of mobile telephones in the 1980's and the effect it had on the market for mobile pagers and landline telephones. For those too young to remember, the first mobile telephone that I owned looked like the image on the left. It was clunky, very heavy, had battery life of less than an hour and was very cumbersome. It was also close to being unusable outside of major cities because the telecoms network required to provide national cellular connectivity was immature and underdeveloped. Looking at the chart above, this telephone was a fad in the early stages of evolution, but Panasonic and others persevered. The inflection point for mobile telephones was eventually reached when, after a few development iterations, hardware suppliers were able to reduce the bulk, weight and portability of devices, network operators had developed their cellular infrastructure and the High Street welcomed suppliers like Carphone Warehouse.
Despite the appearance of the first devices, the quantum of opportunity for mobile telephones has exceeded most people's initial expectations. In a market which is almost saturated, 95% of UK households, or about 37 million people, now own at least one mobile phone. Between 1990 and 2011 global mobile telephone subscriptions increased from 12.4 million to over 6 billion. In the UK the ultimate disintermediated loser was probably British Telecom ("BT"). Not only did they fail to recognise the impending demise of the marketplace for landline connected devices and the potential for the mobile telephone, they then made a subsequent decision in 2005 to exit the market for mobile telephones by selling O2, it's mobile telephone phone operation, to Telefonica, the Spanish telecoms giant.
Apple and the emergence of software applications ("apps")
Of more significance though, and perhaps an easier comparison for a younger audience to relate to, is the resurgence of Apple.
In 1997, Steve Jobs told the markets in America that Apple was 90 days away from being declared bankrupt. Apple was founded in 1976 with the aim of making computers cheap, small and simple so they could become a mass-market product. By the 1980s, Apple was one of the world's best-known brands but, in 1985, Steve Jobs was ousted in a boardroom coup and, in the following years, Apple was increasingly outgunned and outmanoeuvred in the personal-computer market that, ironically, it had helped invent. Apple, hamstrung by a lack of new ideas, failed products and turmoil amongst its leadership, had lost its way before they persuaded Steve Jobs to return to return to save the business and the rest, as they say, is history.
In 1998, Apple introduced the iMac, a round, colourful, all-in-one desktop computer which became an instant hit with consumers. The company's resurgence was then underscored with the launch of the iPod, a portable music player that almost immediately changed how consumers managed their relationship with music. The iPod was launched in 2001 and sold over 400 million units before it was eventually rendered obsolete by the iPhone. The iPod was paired with iTunes, Apple's music store, which would eventually disintermediate the historic relationship that the music industry had with consumers. But it was the iPhone that would define Apple. It transformed the way business and consumers interacted with both technology, and with each other, and it quickly became one of the best-selling products ever. More than 2 billion iPhones have been sold since it was introduced in 2007.
To understand the success of the iPhone it is important to understand the composition of the marketplace in which Apple sought to compete. In 2007, the year that the iPhone was launched, Nokia had a 38% market share, Samsung 14%, Motorola 14%, Sony Ericsson 9% and Apple had a market share of less than 1%. To put that into context, in 2007, Apple sold 3.7 million iPhone units globally. Fast forward to 2015 and annual sales had risen from 3.7 million to 231.5m units with Apple and Samsung competing for dominance in the sector, each having around a 20% share although Apple reported market dominance in that it extracted 80% of the sector profitability with its 20% market share whilst the remaining 20% sector profitability was shared amongst other competitors. The early market leaders, Nokia, Sony Ericsson and Motorola struggled to stay relevant.
It is easy to make similar statements concerning other technological advancements over the past ten years or so but, in 2007, few people could have imagined that a mobile telephone would evolve to perform so many disparate functions as the iPhone or that it would displace both existing competitors, and even its own product range, as it did with the iPod, as quickly as it has. But the iPhone was never just a mobile telephone; it was designed to revolutionise the way users interacted with increasing technological opportunities. When we now talk about the internet of things, the stand out products all adopt the same approach. Success comes from revolutionising the historic relationship between supplier and customer and use the evolving and available technological opportunities to make the historic basis for a relationship almost irrelevant.
Revenue and profit were never constrained for Apple by the sale of handsets and a share of the airtime usage. It was about improving a consumer's engagement with the technological interface and it is worth reflecting how, since 2007, Apple has provided solutions to drive widespread traction of social and business media, facilitated online chat and expanded music and video use to the detriment of legacy suppliers. For better or worse, smartphones have given consumers extended access to email, have facilitated game playing online and have simplified the process of taking and sharing photographs with resolution and image editing functionality that rival that of many SLR cameras. They have expanded, perhaps to the dismay of conventional media outlets, the manner in which consumers can access and filter news stories, they have massively broadened the ability to surf the internet and to use maps or get directions or to search for products without the need to visit the High Street and then to make or read reviews on those products and order, pay and have them delivered, in some cases, on the same day. They have also become central to online shopping, to ordering meals for home delivery, or to internet banking and a host of other applications ("apps") all developed by software engineers who understand that the smartphone is a digital interface offering access to millions of consumers.
Some of those developers have focused on allowing consumers to interact with their motor car and, in the past five years, have included apps from all of the major motor manufacturers (OEMs") who recognise the potential that digital connectivity with their consumer will bring. With forecasts that the worldwide stock of connected cars will grow from around 100 million units in 2019 to 346.2 million units by 2023, it is unsurprising that OEMs are watching the adoption of apps and technological innovations in other sectors.
The primary casualties in the evolution of the smartphone market were the original contenders like Motorola, Panasonic, Sony Ericson and Nokia. They all failed to see, or appreciate, the potential for a personal mobile communication device once it was given significant computer processing power and a digital screen capable through which consumers would come to engage with the rest of the world. And as consumers increasingly came to rely on smartphones, digital disintermediation started to impact legacy businesses relying on conventional distribution of their products. Whether it was camera makers who sold fewer budget cameras as the smartphone became more convenient to carry and use, or record companies and distributors, like HMV and Virgin Music, who suffered when online streaming and cloud storage services made vinyl record production redundant when it was easier to store your record collection in The Cloud. Digital disintermediation also impacted the High Street because using the smartphone to access the internet has empowered consumers. They can now locate products at competitive prices from suppliers they might not previously have heard of, can evaluate the product and the supplier through trusted online peer reviews and then order and pay for product through the small screen on their smartphone and wait for it to be delivered. Existing relationship channels will continue to be at risk from technological developments; they are likely to be impacted in ways that are limited only by a marketeer's imagination and they are vulnerable when consumers realise that the digital route to consumer satisfaction is a game changer compared to the legacy High Street offering.
Disintermediation – how markets evolve
Think about Netflix. Its original business model involved supplying DVD's either by mail or from store front locations, for rental or sale and predominantly through their Blockbuster brand. It wasn't until 2010 that technological advances in video streaming and wi-fi and cellular connectivity meant that video content was available to view online and then on a smartphone.
As Netflix sought to re-invent itself, video streaming became part of their model and by 2012 they became film and content creators and produced their first online accessible television series. By 2016 they had produced 126 original series and films and made DVD sales and rental (and Blockbuster) almost obsolete as consumers elected to watch media content through their smartphone, tablet or PC. By July 2014, Netflix had surpassed 50 million global subscribers with a 32.3% video streaming market share in the United States and evolving operations in 41 countries around the world.
This growth made the wider case for publicly funded broadcasters, like the BBC, look very weak and probably unsustainable amongst typical Netflix subscribers, 68% of whom are aged between 18 and 44 years of age. In 2018, research indicated that conventional TV was watched for just under 3 hours per day and Ofcom recognised that the number of UK subscriptions to television streaming services marked a major shift in the UK's viewing habits. Conventional broadcasters are being disintermediated by organisations like Netflix, Amazon Prime and Apple TV with UK subscriptions now totalling 16 million.
And what about hailing a cab and Uber?
The black cab market didn't seem like it could be radically overhauled by the adoption of disruptive technology. It is an industry that has served London for almost three hundred years. It is, however, an industry that is sometimes inconvenient to access. It usually involves standing in a busy location hoping to see a cab for hire whilst praying, especially when it's raining, that nobody else hails it before you do. In the alternative, and in other cities as well as London, if you have a pre-planned journey to make then you can always telephone a taxi firm, give your details and keep your fingers crossed that your ride will arrive on time and at the right place.
In fact, there are a number of factors that make the process of hiring a taxi ripe for digital intervention. There is very high latent demand which often has seasonal or diurnal peaks often inverse to the available supply which, in any event, is often variable depending on the time of day and the customer's location. On the supply side, there are barriers to entry – licensing, insurance, regulations and mandated vehicle specification – in a market which is difficult for an individual cab driver to enter and scale. Accordingly, there are a high volume of individual transactions which are relatively low in economic value generated by consumers who want an acceptable price point and less variable service delivery offered by disconnected suppliers.
Who would have imagined five years ago that a smartphone app could transform a three hundred year old service such that you could see the location of available cars for hire, select the type of vehicle you want, use your smart phone to digitally hail the cab, execute the booking online and then track the arrival of the cab to wherever you are waiting and then be taken to your destination (with the route and estimated time of arrival being displayed on your smartphone as you travel), complete the transaction, effect payment digitally and submit the driver reviews seamlessly and all at prices lower than the current market offering. These are all the essential ingredients for a game changer. Indeed, Uber has been so prominent in the execution of its plan that the changes in industries as a result of it have been referred to by analysts as 'uberisation'. Founded in 2009, Uber is today estimated to have 110 million worldwide users, a 69.0% market share for passenger transport in the United States. As an indication of the effects of uberisation, through Uber Eats, Uber now has a 25% market share for food delivery.
What does the process of uberisation mean for the credit-hire marketplace?
The key question is what risk does any of this app development, especially in respect of the connected car, mean for the automotive industry and particularly its important relationship with its customer base and its more casual relationship with the credit hire market? 
The credit-hire industry has has evolved over forty years to provide mobility solutions to the innocent victims of road accidents. Every year there are millions of UK road accidents and those motorists involved in the collision are inconvenienced as a consequence. There is no uniform and equitable direction or pathway aimed at restoring mobility, repairing the damaged car and dealing with the ensuing consequences on behalf of every motorist. Even the issue of whether a motorist is deemed to be at-fault or not at-fault for the accident impacts the service that they can expect to receive. Typically, if a not at-fault motorist hires a car whilst his damaged vehicle is being repaired then the revenue generated from the hire transaction should ultimately be recovered from the insurer of the at-fault driver. It often, however, involves a dispute that results in contentious litigation as those responsible for picking up the bill seek to reduce their exposure.
Competitors in the credit-hire space commit significant resource to facilitate rapid access to the motorist after an accident; they recognise the accident victim as a profitable revenue stream. Insurance companies on the other hand, especially if they insure the at-fault driver, see the potential cost of credit-hire as one that they might avoid if they manage to get to the not at-fault driver first and manage to provide him with mobility at a lower cost. The key enabler in the market is gaining access to those involved in an accident as expeditiously as possible. If only there was some technology available that could automatically notify interested parties that a collision had occurred and assistance was needed!
Typically, referrals are made to credit-hire companies through one of a number of channels after a motorist reports his involvement in an accident. That report may be immediate, or it may be several days after the event. Referrals may be made to the client's insurance broker or his insurance company, to a recovery operator tasked with recovering the damaged car from the accident scene or from body repairers who estimate the cost of repair after an accident. In many cases referrals are also made by franchised motor dealers or fleet leasing and claim management companies after their customer notifies them of their involvement in an accident. In some instances, a telematics device might highlight the likelihood of an accident having taken place, but those devices have historically proved inconsistent in differentiating the g-forces from collisions with the g-forces from speed bumps taken at speed, for example.
In any event, all of those entities hoping to make a referral to a credit-hire company have mechanisms in place aimed at acquiring an influential relationship with the motorist. Over forty years, the credit-hire industry has been characterised by a race to secure that relationship with a consumer on an exclusive basis.
The problem for the credit-hire marketeer has always been that people are involved in a road accident very infrequently, typically once every seven years, and so marketing a credit-hire service to motorists through advertisements, before they have been involved in an accident, is expensive and unlikely to build a lasting connection with the motorist. The time window during which the service of a credit-hire company might be needed is very small. It is the time between the accident occurring and anybody else seeking to build a relationship with the motorist. As a result, marketing necessitates a multi-channel approach to increase the odds of generating the referrals.
Certain referrers to the credit-hire industry do have relationships with the motorist before any involvement in an accident. An insurer, for example, has a higher probability that their policyholder will call them before calling anyone else after an accident. A telematics provider may receive early notification of a potential collision. Leasing and fleet management companies typically provide services for businesses operating large fleets and will have agreements in place with their commercial clients such that they manage the entirety of the mechanical and accident related work for their customer's large vehicle fleet and their employee drivers. Because those companies need to keep their employee mobile when a vehicle is being serviced or repaired, the driver is usually instructed who to contact in relation to any mobility issues arising from a mechanical breakdown, routine servicing or an accident. In other instances, the relationship between the referrer and the credit-hire company might be financially motivated, not that it won't be with insurers and fleet leasing companies. As a result, the customer is often caught in the middle of all of this and, especially with all of the negative publicity around ambulance chasing claim management companies, just wants someone dependable, who they can trust, to take the weight of their shoulders, recover and repair the damaged car, keep them mobile so that he can carry on getting to and from work and dealing with family commitments and do so without involving him in litigation or post-accident stress.
In practical terms, the hire charges arising from most claims involving referrals to credit-hire companies are paid by motor insurers who have insured the at-fault party in an accident. The estimated cost of that mobility provision exceeds £0.5 billion annually. As a consequence, insurers have put significant intellectual and human resource behind their call centre operations so that the moment their policyholder reports being involved in an accident, and assuming that they were the at-fault party, an outbound call will be made to the innocent part in order to offer to provide mobility and repair services to prevent any other potential referrer from intervening. In those cases where their client is not at-fault, then their efforts will be targeted at providing the mobility and to ensure that they receive any commission opportunity from the accident or, depending on the insurer, so that they limit the cost of providing that mobility which will ultimately be borne by the insurer of the at-fault driver in the collision. It's a very complex market involving millions of potential transactions each year and so the revenue opportunity for referrers arising from introducing a credit-hire company to a not at fault accident victim can be significant.
Credit-hire exists in a marketplace which is highly competitive. The level of commissions paid by referrers, adherence to the referrers service level guidelines, ability to record high levels of customer satisfaction and, in some cases, committing to purchase fleet as part of any contractual relationship with a referrer, are all key drivers for relationships. The cost of attaining the service levels together with the cost of vehicle purchases and the commission paid all have to be absorbed into the rate charged by a credit-hire company. A number of credit-hire companies operate in accordance with the Association of British Insurers General Terms of Agreement ("GTA"), a protocol for resolving credit-hire claims and in which the maximum daily hire tariff is agreed between insurers and credit-hire companies. However, for some operators, the rates permitted under the GTA protocol make the absorption of the high levels of commission and other cost and expenses paid to referrers difficult to absorb and so often results in more expensive commercial rates being charged for claims pursued outside of the GTA. That inflates the potential cost to insurers that are ultimately liable for settling the hire bill and is often why the market for credit-hire is marked by litigation.
If only there was some technology available that could automatically notify interested parties that a collision had occurred and ensure that the consumer had a clearer and less contentious route to resolve matters. The reality is that such a solution is fast approaching.
Just as in the case of Apple, Netflix and Uber, technologically inspired changes to the motor car have inspired the connected car which uses onboard technology to link with apps developed by the OEM to give the consumer and potentially the OEM (either working on their own or working with insurers) greater power to influence the customer experience immediately after an accident.
The Connected Car – it's not about autonomous driving
After ten years in the market, Tesla ranked as the world's best-selling plug-in passenger car manufacturer in 2018. They delivered 245,240 electric vehicles and achieved a market share of 12% of sales in the plug-in segment. Tesla vehicle sales in the US increased by 280%, from 48,000 in 2017 to 182,400 in 2018, and globally were up by 138% from 2017. Whilst impressive for a company that had never previously been involved in manufacturing motor cars, Elon Musk is a figure that can't be ignored. He was one of the creators of PayPal and understands the power of technology and the value of data and how it has to be processed in a car if his dream of full autonomous driving is ever to be met. His relevance to this article is that he has become the self-appointed spokesman on automotive innovations even though most of the innovations he claims credit for have either already been implemented, or are about to be implemented, in all of the cars on the road today.
Tesla Autopilot, for example, offered semi-autonomous driver assistance from September 2014. As of 2017, their Autopilot product included adaptive cruise control, lane departure warning, emergency braking, Autosteer (semi-automated steering), Autopark (parallel and perpendicular parking) and Summon (recalling the vehicle from a parking place). Many of these features are being developed by industry heavyweights like Jaguar Land Rover ("JLR"), Mercedes-Benz, Audi, Lexus and BMW and most of these developments are part of the connected car.
It's not just about Tesla
Whilst some of the technological innovations may have a stimulus from external sources, all of them benefit from significant investment made by the global automotive industry. Whilst it may seem as unlikely as it did in 2007 that Apple would one day offer a better camera incorporated in the iPhone than a camera purchased as a stand-alone device, it is inevitable that the technology associated with the connected car will become the de facto standard when OEMs apply their expertise to delivering scale in their core market and will change the experience of owning and driving a car.
One urgent catalyst for the automotive sector is the creation of pan-European regulation, something that OEMs have anticipated and been developing and testing for the past five years. This will ensure that a range of those functions advertised by Tesla will be commonplace in all new vehicles. From May 2022, all new cars and commercial vehicles registered in the EU will require thirty separate safety systems to be installed including a newly mandated 'black box' data recorder.
The list of systems for cars include advanced emergency braking, alcohol interlock installation facilities, drowsiness and attention detection, distraction recognition and prevention, an accident data recorder, an emergency stop signal, full width frontal occupant protection and crash test improved seatbelts, head impact zone enlargement for pedestrians and cyclists with safety glass in case of a crash, intelligent speed assistance, lane keeping assist, pole side impact occupant protection, and reversing camera or obstacle detection systems.
Although the statutory deadline for the introduction of these developments is 2022, much of the newly mandated technology is not new and is available today. In addition, some of it can be retro-installed as an over the air software update or through an adapter on cars that are, from certain manufacturers, as old as 2012 model year.
I currently drive a 2018 model Audi which already has a lot of the connected car technology installed and operational. The SOS automated call facility for expediting assistance following a serious accident (usually in circumstances where the airbag has been activated), GPS location tracking so that the Audi call-centre know where the accident and my vehicle are and Audi pre-sense which provides advanced emergency braking where the sensors detect the potential for an imminent collision. In the standard variant the system analyses the information from the car's sensors and when they signal maximum brake application or skidding, the control unit intervenes. Depending on the situation, it activates the hazard warning lights and begins closing the side windows and the sunroof; it also tensions pneumatic springs and the belts at the front seats.
Aside from these advertised components I suspect that some of the more controversial elements, black box data recording, for example, is already installed, tested and ready and I don't doubt that the plethora of cameras currently utilised for assisting parking manoeuvres will interface with the other systems to provide documentary footage of any collision involving the vehicle.  The data stored in the black box will be capable of reporting speed, direction of travel, braking forces, whether, and when before impact, brakes were applied, whether direction turn indicators were operational, the collision impact point and impact velocity all of which, incidentally, with the evolution of systems utilising Artificial Intelligence ("AI"), will allow for a basic repair assessment to be made remotely as to the drivability of the vehicle post-accident and the likely extent of the damage.
All of these developments are driven by the OEM's desire to evolve and improve the software interface between the car and the user. Like Apple, and possibly even because of Apple, vehicle manufacturers have recognised that the car has become an interface between the driver and technology and because of the extensive processing capacity now central to the operation of the car, can offer apps that will support a more rewarding customer experience.
Mechatronics
OEMs refer to these new connected car developments as mechatronics and the potential for enhancing the capability of the car through the adoption of technology and software has, over recent years, driven growth in the recruitment of people with expertise in software and electronic engineering and mechatronic systems.
The first evolution of the new customer interface allowed the driver to access a series of internet apps providing travel, weather, nearby fuel price information, location of petrol or battery charging stations, nearby car park information, available spaces and pricing, news feeds and airline and railway arrival and departure times local to the motorist in an attempt to anticipate the simple searches a motorist might want to make whilst driving a car. But the connected car goes beyond the car behaving like a mobile computer with internet access.
JLR, for example, claims that it was among the first manufacturers to offer software over the air updates ("SOTA") utilising the vehicle's built in wi-fi, 4G or 5G connection. The implications in terms of improving the service offering to a customer are quite material. Not only does SOTA allow the vehicle software to be upgraded over the air but it can also identify and address evolving system issues before the motorist recognises there might be a problem evolving. In essence it is making available to the OEM information that telematic suppliers would like to access from the OBD2 vehicle servicing port, something I will return to below. The win for the manufacturer through SOTA diagnostics is a reduction in the incidence of costly vehicle safety recalls and, for the customer, a reduction in time consuming dealer visits for potential warranty work to be carried out.
The connected car and the potential impact on dealer revenue streams
Whilst an important factor for motorists, reducing customer engagement is potentially a negative prospect for the franchised dealer because it will reduce the frequency of face to face interaction and potentially limit the incidence of lucrative after-sales revenue generated as a result of recalls and warranty work. For context, gross profit on labour charges for a franchised dealer is typically around 75%. It is not in the OEM's interest to allow the profitability and quality of their franchised network to decline and so I would expect them to ensure the existing franchised dealer model remains able to support its network in an evolving and changing environment. There is also the potential upside from technologically driven change. OEMs do recognise the benefits of technological evolution and, for example, the prospect of disintermediating the insurance channel if, for example, they choose to sell insurance priced on different rating factors including vehicle usage and driving style rather than just the standard proxies. JLR already have an incubator subsidiary business branded as 'By Miles' capable of doing just that. Logically, if insurance is seen as an opportunity for OEMs then so too must the management and cost associated with claims and the potential for alliances with appropriately focussed insurance operators.
I met with a director of a large CHO recently who told me he had plans to consider, in 2022, a strategy to engage with OEMs to confront what might become the new paradigm in terms of the relationship between dealers and credit-hire operators. The problem with his approach is that the advancement of the connected car doesn't just manifest itself in vehicles registered after May 2022 and the EU regulations being implemented. JLR, for example, has made SOTA retrospectively available to all compatible vehicles registered after 2015. Mercedes Benz has just written to owners advising customers that their app can be utilised on vehicles manufactured post 2012 subject to an adapter being purchased and that in October 2019 they intend to roll out developments in their 'Mercedes Me' app which will release some of the anticipated developments three years earlier than the EU deadline.
The problem, therefore, for credit-hire companies with a relationship with a franchised dealer or with leasing or fleet accident management referrers is that the commercial model is already changing around them. Audi has launched its updates over the air with the new e-tron SUV range and plans, with older less expensive models, to give customers the opportunity to upgrade and enhance the functionality of their existing vehicle using the same or similar over the air update route. BMW launched over the air updates in May 2019 for all of their vehicles operating Version 7.0 or above of their operating system and General Motors, Volvo and others are also on course to offer similar functionality over the air.
How big an opportunity is the connected car for vehicle manufacturers?
The connected car is huge for vehicle manufacturers. Statista GmbH forecast that the worldwide stock of connected cars will triple to 346.2 million units by 2023 with around 77 million new cars being sold globally each year.
The EU has already signalled the direction of travel for the motor manufacturer and some very large strategic alliances have already emerged to deliver the necessary mechanical and software platforms. These things don't, however, come cheap and the economic challenge is being addressed by replacing the traditional automotive merger with an array of ecosystems, alliances and collaborations as companies combine intellect and energy to embrace the latest technological trends. According to the Boston Consulting Group, many of the combinations involve players from outside the automotive world, like Silicon Valley start-ups or semiconductor companies, which introduces new skills and fresh ways of doing business allowing manufacturers to speed up the development time and share the huge cost burden involved. The trade-off is between start-ups and companies from outside the motor manufacturing industry who have identified the difficulty of getting this technology to market against OEMs with an appetite for enhancing their skills in software, electronic architecture and mechatronics, a problem that they can resolve in a combination.
Aftermarket Telematics – not quite the answer
A little under ten years ago I researched the opportunity of bringing an after-market telematics product to market in the UK. A large amount of development had been made by a variety of first-mover businesses in the United States and South Africa. It was clear that the telemetry required, if it was to be a game-changer, intelligent data queries to be made through and the results extracted from a vehicle via the OBD2 port. This is the hidden connection that is concealed behind the vehicle dashboard that franchised dealers, and, thanks to EU regulation, none-franchised mechanics, can use to access and download vehicle diagnostic information and error codes.
The US market is slightly different to the UK market and accessing the OBD2 port, such that a consumer could self-install a telematics device if it was required, for example, by his insurance company, is simple. This was advantageous to the telematics sector in the US market because it could replace the cost of sending an engineer to fit the device with the cost of a jiffy bag and first-class stamp. Cars in the European market are typically smaller and the OBD2 port has become less accessible over time. This has necessitated that the telematics supplier has to incur an on-cost in terms of the labour required to fit a device.
The experience in the UK market over the past ten years was that whilst there were some early and positive results in terms of the data which could be obtained from the vehicle and merged with the GPS data, it became clear that the manufacturer would prove reluctant to allow any untested third party to have unhindered access to the technology controlling the target vehicle's operating systems. Indeed, over a relatively short period of time, changes made by the manufacturer limited the functionality of a telematics device when a vehicle was moving. In some cases, and I experienced this with an Audi that my wife was driving, the presence of a telematics device plugged in to the OBD2 port prevented the car from being driven normally.
In part, the manufacturer resentment of the after-market use of telematics devices was a response to genuine concerns that a moving vehicle could be hacked if devices were connected to the OBD2 port. But the resentment was also because the OEMs were keen not to allow third parties access to data that went beyond the obligations imposed upon them by the EU. As a consequence, plug-in telematic devices were largely restricted to obtaining power from the OBD2 port and to providing information about the journey start and end times and a driver's driving style. It did this by analysing the GPS data from processing capability on the telematics device and then plotting the journey on a digital map and running a series of algorithms to determine speed over time and distance to identify where speed limits had been exceeded or by using the internal gyroscopes to measure acceleration and deceleration and, subject to the sensitivity of the sensors to identify a potential accident collision. All of this data, however, was independent of the vehicle and it is data that can now be collected on smartphone apps without the need for a separate plug-in telematics device. As a consequence, telematics devices missed the inflection point and never became the next big thing, other than where they were used by insurers to manage or restrict vehicle usage in the case of young or inexperienced drivers.
The lesson appears to be that allowing independent telematics operators access to dynamic information from their customer's moving vehicle, aside from concerns about security, privacy and driver safety, conflicts with the manufacturer objective of maximising the technological functionality for their strategic benefit so that they can use dedicated data platforms to extract, analyse and monetise telematics information relating to the vehicle.  They might appear to have acted churlishly in creating barriers for telematics providers. The reality, however, is that their approach is inspired by complying with EU regulation, whether by providing access to the OBD2 port to reduce barriers for non-franchised dealers to service vehicles or by developing the connected car to comply with the EU legislation effective from 2022.
Knowledge is power
Data is a valuable commodity. Whilst the General Data Protection Regulations ("GDPR") impose restrictions for organisations on the use of personal data without the express consent of a data subject, there is a market for acquired data when such consent has been obtained or where the data is anonymised.
Avis Budget Group ("Avis"), the global car-rental business, reported recently that it had enlisted Otonomo to help turn data from its car rental fleet into cash. It followed reports that a number of automotive industry players were reportedly looking to tap a huge market for vehicle information. Avis is linking a global fleet of more than 100,000 connected vehicles to the cloud-based marketplace run by Otonomo so that they can sell anonymised data collected from its cars to one hundred or more companies connected to the Otonomo platform.
Consulting firm McKinsey & Co projects the market for vehicle data could grow to $750 billion globally by 2030. They identify a variety of scenario's driving the demand. For example, insurers want to know how, when and where people drive; vehicle manufacturers want to know about reliability issues and vehicle usage based on the target marketing profile of individual models; retailers want to see what routes people take most frequently so they can decide where to set up new stores or place billboards; local authorities want to measure traffic flows, understand the routes taken through urban areas and vehicle volumes in order to use traffic management to improve urban traffic flows. Otonomo claims that it already has 18 million vehicles connected to its platform with an expectation that it will grow to more than 20 million by year-end. The connected car has already opened new commercial channels allowing manufacturers to drive revenue streams and build commercial alliances that previously did not exist. OEMs are keen to ensure that they remain at the forefront of that opportunity by using the car as a simple interface with technology. Even before any integration with organisations like Otonomo, the possibility of the car serving as a virtual wallet (like Apple Pay does on an iPhone), and paying for road tolls or even for fuel without having to visit the cashier after re-fuelling is easily achievable.
I mentioned earlier the speed with which Netflix made its own Blockbuster brand obsolete. Looking back over 40 or so years of motoring I can recall a time when vehicle manufacturers supplied a pretty basic 'in dash car radio' and an inexpensive loudspeaker. The radio looked like the Sony device in the picture above. All of the units, from every manufacturer, were the same size to fit the hole in the dashboard but one of the benefits of that was that it allowed motorists to remove the pre-installed unit and install their own high-end radio and cd player in the same hole in the dashboard. However, whilst the upside was that it was relatively easy to fit a replacement unit, the downside was that it was also easy for a car thief to remove it.
This type of 'easy steal' unit was the default before vehicle manufacturers realised that by offering an integrated radio and cd solution that could not be removed from the dashboard that they could help eliminate an element of the crime statistics related to theft from the vehicle. This was another instance of a sector being disintermediated over time as vehicles eliminated the space in the dashboard for a retrofit device. For vehicle manufacturers, the change also created an incremental revenue and margin opportunity by allowing those who wanted to listen to high quality sound could purchase a factory upgrade to the OEM's standard amplifier and speakers from audio manufacturers such as B&O and Naim.
Of course, most consumers access their music collection through their smartphone, and this is one of the reasons why Apple CarPlay (and Android Auto) was launched. Apple CarPlay allows the functionality of a motorist's iPhone (navigation, contacts, music and text) to be accessed through the display screen mounted on the dashboard in the car. It might come as a surprise to learn that integration of CarPlay into the vehicle has been funded by the vehicle manufacturer. It probably won't come as a surprise, however, to learn that at least one manufacturer, BMW, is moving to a pay per use platform. They will allow someone who purchases a new car to have 12 months free access to Apple CarPlay but an obligation to pay an annual premium of £85 for those who want to continue to access their iPhone on their dashboard thereafter. The same is true for Mercedes-Benz who, on 2019 registered cars, will be charging  a one off payment of £367 for Apple CarPlay and Android Auto integration, as well as a further £49 a year for remote parking assistance, £29 a year for a digital key and £49 a year for live traffic information and car to car communication.
OEMs have witnessed the growth and success of the Apple model where the smartphone provides new levels of intimacy with the customer and a recurring and expanding revenue line for incremental products and services. They have realised that consumers will pay more to access higher levels of functionality through their dashboard especially when they understand how technology can enhance the safety, performance and convenience of their cars and deliver a game changing user experience.  OEMs are evolving into the business of selling an experience by making available enhancements, which can evolve over the lifetime of the car and which then present new opportunities to enhance the utility of the car in much the same way as consumers can update their iPhone. They might define it in different terms but, for example, Audi claim that "the rules of the game are changing, and car manufacturers are questioning the way they have always defined themselves. They are thinking beyond cars as a product and focusing on the digital world of the customer, a world in which mobility is naturally integrated. The best possible user experience is what is required… vehicles can be personalized and made safer, the driving public protected, and the flow of traffic made more efficient. We aim to systematically digitize our processes and use digital services to open up new business models and sales potential — in retail, in the vehicle and for mobility offers beyond the vehicle."
Accidents and Credit-Hire
So how might any of this impact on the credit hire industry and their current market position?
Credit-hire companies source their business from a number of different channels. Probably most at risk of disintermediation are those companies with a bias towards receiving referrals from automotive dealers and fleet management companies. They usually involve referrals where the typical damaged vehicle will be less than three years old which means they will more likely comprise connected cars than those without manufacturer connectivity. Equally, referrals soured from other sources, including insurance companies, might be impacted where the referral demographic includes a high proportion of connected cars.
The least at risk are those credit-hire companies engaged in providing replacement vehicle hire to taxi and private hire companies or to those businesses with a majority of impecunious clients where the claimant's vehicle tend to be an older and less expensive car.
Whilst it's possible to identify the niche suppliers that might be of more or less risk as a result of current manufacturer developments, the reality is that most credit-hire companies have a referrer model relying on a number of different channels and so identifying the specific level of risk by credit-hire company necessitates identifying the characteristics of each of those channels in terms of the claimant, their vehicle type and vehicle age against the likely impact of the OEM in each of those referral channels.
After forty years in the sector, my experience suggests that where their vehicle asset is concerned, the manufacturer will always win. They have a long development cycle, but they take their time to ensure their consumer proposition is robust and they have the necessary partner relationships to manage the relationship and deliver against customer expectations as their digital proposition evolves. And so, subject always to the motorist granting the OEM permission to utilise the data generated by him from his motor car, the key issue for the credit-hire industry over the next five years is that, even before 2022, manufacturers can, and probably will, engage with their customers at the scene of an accident. They will be able to do so in a predictable manner, consistent with their core brand values, whilst taking responsibility for providing ongoing mobility and for controlling the direction, and cost, for the damaged vehicle along the appropriate repair pathway.
The idea may sound a distant prospect but, to demonstrate how manufacturers think that things might work, I reference that BMW launched BMW Accident Call in 2017. The launch gives an indication how advanced their thinking was two years ago before interest in the opportunities created by the EU regulations gathered pace. The video below links to a sets out how BMW saw the system was intended to work. It is worth watching whilst, at the same time, reflecting on how many BMW dealers currently support credit hire companies and how BMW will influence their future management of relationships with those customers unfortunate enough to be involved in an accident.
Taking control of the accident has always been important for manufacturers but it has been difficult for them to finesse because they have never previously been the default first point of contact following an accident. OEMs will now be focussed on the opportunity that the connected car will give them to control the customer experience and associated revenues arising after an accident. At a time when routine service intervals have extended out over one and two years, and as retail profits on the sale of new vehicles is often negotiated away between competing dealers, it is increasingly the case that labour hours and part sales represent an more important component in franchised dealer profitability. Equally, where an accident damaged vehicle is deemed beyond economic repair, the energy through which replacement vehicle sales are controlled will be key.
In all of this it is clear, either the way Audi articulates their strategic vision, the efforts of JLR and Mercedes Benz' to retrofit connectivity to vehicles as old as 2015 and 2012 model year respectively and the simple demonstration of the connected car from BMW, that the OEM intends to develop and retain control of the various digital revenue opportunities wherever they arise. With an estimated worldwide stock of more than 340 million connected vehicles estimated by 2023 manufacturers clearly have their eye on the prize and disintermediation seems to be a highly likely outcome for some.
In terms of vehicles involved in an accident, and with sensors fitted to the vehicle that can already trigger an accident notification and vehicle location to the manufacturer call centre, OEMs will be capable of controlling the customer experience. The BMW video shows how integrated the technology and user interface can be; after detecting an accident, an alert on the dashboard invites the driver to call the accident call centre for assistance in real-time. If the collision is such that an airbag has deployed then, using the SOS system, the call centre will call the driver first to determine if emergency medical services are required.  If the manufacturer's goal is retaining customer loyalty by delivering the best possible experience whilst opening new business models and stimulating new revenue opportunities, then this preview of their digitally enabled solution indicates the direction of travel for manufacturers.
Some elements of the credit-hire model are at risk.
Currently, credit-hire revenue is generated by intervening on behalf of the driver and, in certain instances, the supplying franchised dealer in order to manage the effective repair of the client's damaged vehicle and triage the recovery of all incurred losses, including car-hire, where those losses are recoverable at law.
History shows that even though a credit-hire provider might have an exclusive relationship with a referring franchised dealer, not all contracted franchised dealers refer all of their potential customers in accordance with their obligations under that agreement. In certain instances, they are prevented from doing so based on the dealer's insurer approval agreement which certain UK insurers craft to restrict their policyholders being exposed to the services of a credit-hire provider unless it is to the benefit of that insurer.
For over a decade now, some insurers, and I have one specific insurer in mind, agreed with a vehicle manufacturer the terms of a supply arrangement where an OEM would supply parts in circumstances where their policyholder was involved in an accident whilst driving that manufacturer's marque of car. The agreement saw the OEM supply parts to the insurer at agreed net prices and, in exchange, the OEM dealer repair network would see increased volumes of own brand vehicle repairs being introduced by the insurer and approved for repair. In addition, the insurer refused participating dealers the right to refer any motorist insured by them, whether or not they were referred by that insurer, to any credit-hire company. I recall Ford exploring similar ideas in July 2011 as part of an accident management relationship they had established with The Innovation Group in order to "clean up Accident Management with its own scheme". Neither of the two schemes halted the rate at which credit-hire evolved in the UK but they both highlight the capacity for insurers and OEMs to disrupt the existing referral channels.
I referred earlier to the relationship between OEMs and credit-hire companies as being 'casual'. Credit-hire companies have never managed to align themselves directly with OEMs although there has been, over many years, occasional periods where that looked like it might change. In reality, however, I think that vehicle manufacturers tolerated their franchised network supporting credit-hire companies as long as the customer experience was not inconsistent with their brand values and the service provided was beyond reproach. OEMs have always been aware of the value flowing to referring dealers in terms of retaining or increasing repair volumes in the network, delivering branded mobility solutions where the client was always provided a vehicle from the same franchise brand, improving parts and labour sales, respecting the personal needs and preferences of their customer and generating for the dealer a significant element of commission and vehicles purchased commensurate with the referral business generated.
Credit-hire has always represented a strong source of revenue for motor dealers. Commissions can be as high as 35% of the value of the hire charges charged to, or recovered from, the at fault insurer and that level of commission may be a reason why some dealers will be reluctant to abandon their existing referral arrangements with credit-hire companies. However, if BMW Accident Call, and other such services launched by other manufacturers, are as effective and immediate in making contact with the consumer as the BMW video suggests they will be, then the opportunity for the dealer to retain that level of commission will disappear over time in any event.
Another reason why dealers appreciate their relationship with a credit-hire company is that they will typically provide a customer with a comparable hire vehicle of the same brand and model as the damaged vehicle. There is nothing BMW dealers dislike more than a BMW 3 series customer being provided with a replacement Audi A4 whilst his own car is being repaired. That represents an embarrassing own goal for BMW and a painful experience for the dealer if he loses that customer to Audi when he comes to replace his car. On that point, I don't think OEMs are silent.
Over the past year or so, there has been a resurgence of manufacturer-based vehicle rental outlets located either independently or at the premises of a franchised dealerships. Traditionally, manufacturer car rental operations have been linked to a downturn in new vehicle registrations and an attempt to stimulate new-vehicle registrations in the short-term whilst also creating a pool of late, low-mileage, vehicles for the used market in the medium term. It may be, therefore, that those economic and commercial forces are at play again today. However, the synchronisation of the launch of manufacturer rental services allied to the emergence of the connected car give suggests that there is something bigger at play here especially when, with a number of manufacturers, the rental development is taking place on a global rather than a local scale.
For example, Audi have launched 'Audi on Demand' in the USA, Far East and Europe. They offer 14 different models (from the Audi A1 to the Audi Q7) with, for example, an Audi Q5 available at £117 per day for a seven-day hire. Volkswagen Group have a similar scheme rolled out for both Volkswagen and Skoda with a Volkswagen Golf Auto, for example, available at a rate of £40.91 for a seven-day hire. It may be worth noting that the GTA rate for that vehicle is £42.63. JLR are not far behind with an incubator proposition called "The Out". It's currently only available in London but there are plans for a national roll out of the service. From a cost per day perspective they appear competitive against the GTA Rate of £185.59 for a Range Rover Velar for which they charge, on a seven-day hire, £159.71 per day.
When addressing the question of how manufacturers and franchised dealers will monetise the opportunity to engage with an accident victim within minutes of a collision, and without the motorist having to do anything more than answer their phone, vehicle manufacturers might seek to address the dealer referral opportunity by agreeing their rate for providing mobility direct with insurers and, by retaining control of the rental transaction, keep 100% of the net profit on behalf of the controlling dealer. OEMs might also see that approach as commercially astute and the basis on which they might command, through their franchised repair network, even greater repair volumes. I offer that suggestion on the basis that the connected car also threatens the potential dominance of the insurance sector in dictating the process for repairing damaged vehicles. When vehicle sensors capable of transmitting data defining the points of impact and the severity (calculated by refence to speed, angle of attack, location of impact and impactive g-force) then a manufacturer will be ideally placed to use AI to estimate the extent of damage to the vehicle and determine the best avenue for repair immediately and certainly well before the insurance company has received notification of an accident and instructed their engineer several days later. I don't doubt that the tools to facilitate such a development with be under construction at Audatex as you read. The opportunity to take cost out of the process and engineer a more reactive and intelligent solution is almost inevitable. So back to the pivotal question, what will this do to credit-hire industry and over what period?
The future of credit-hire
Initially, my assessment was that it would take OEMs at least 10 years to fully address the challenges and opportunities they have through the connected car technology they have developed. Having researched the issue in more detail, I think that they have been active behind the scenes for the last three or four years building and testing the robustness of any proposed solution as well as determining how to retrofit some of the technology over the airwaves. With an estimate of a worldwide stock of 346 million connected cars by 2023, OEMs will have a mature product in market well before then and that product will impact the volumes and referral channels across credit-hire industry players. 
As mentioned above, the connected car will impact certain credit-hire players more than others and so the time for the credit-hire industry to undertake a strategic review of the potential vulnerability of existing relationships is now. I suspect that insurers will already be contemplating discussions with OEMs but it is the manufacturer's control of accident and vehicle related data that will define the nature of the conversation at a time when insurers are possibly more focused on the issues likely to flow from the launch of the autonomous self-driving car.
I don't believe there is a direct approach to OEMs from the credit-hire industry that can easily succeed because, with only one or two exceptions, the scale of funding needed to manage any relationship across such a large volume of potential accidents is huge and is probably currently resident with the manufacturer's existing partner relationships. Allianz and BMW, for example, have a longstanding global partnership in 27 markets where they have focused on delivering innovation in the automotive value chain and I think they will have a clearer view of how to structure an evolving partnership with BMW and Mini. Equally, the traditional skills of the credit-hire company are not resource gaps that OEMs will feel compelled to acquire. Promoting early access to a customer will be negated by the connected car; operating a call-centre to manage volume is something that manufacturers and their existing partners can already manage; the expert capacity for assessing risk will be irrelevant if OEMs structure commercial arrangements with insurers; establishing a rental operation to provide customer mobility is something OEMs can do more effectively than anyone, and resolving insurance claims will flow from any negotiated commercial relationship with insurers.
Does all of this mark the end of the credit-hire industry? Well, after being involved in the industry for almost forty years and having heard stories of the potential demise of the sector since 1982, I don't think that it does. However, as the regulatory landscape has impacted the profitability of the credit-hire transaction over the last five years, and with further regulation likely, the prospect of the connected car should alert credit-hire companies to the need to review their business mix. Based on thir referral mix they should assess what financial impact the connected car will have on their existing referrer channels over the next five years. They should definitely review their long-term contractual arrangements with referrers and, in the case of new or renewal contracts, should introduce in any multi-year contracts the potential for re-negotiation if the connected car and/or the OEM alters the fundamental commerciality of those arrangements.
 About the author
Dr Stephen Evans obtained his PhD from the Institute of Criminal Justice Studies at the University of Portsmouth following a four-year research project into the impact of the Insurance Fraud Enforcement Division (IFED) on non-insurer victims of fraud. His research identified the likelihood that IFED would make it harder for non-insurers, especially those that self-insure their fleet or insure with a large per claim excess, to prosecute fraud offences committed against them and would create a favourable environment for those fraudsters to exploit those non-insurer fleet operators and gain impunity from prosecution.
Dr Evans is an Honorary Lecturer at the Institute of Criminal Justice Studies at the University of Portsmouth. 
He is arguably one of the UK's foremost experts in the credit-hire market. Having cut his teeth in the embryonic era of the sector in the 1980s, he became a leading figure helping to shape basic hire rates, litigation protocols and steering the debate around the GTA, which governs the relationship between insurers and credit-hire providers.
As a former Chair of the credit-hire industry trade body, he served on the technical committee of The GTA assisting in the evolution and deployment of the GTA protocol between 2005 and 2016.
In addition, Dr Evans has given written and oral evidence on the cost and propriety of credit hire to legislators and regulators including The Office of Fair Trading, Competition and Markets Authority, House of Commons Transport Select Committee and the All-Party Parliamentary Group on Insurance and Financial Services.