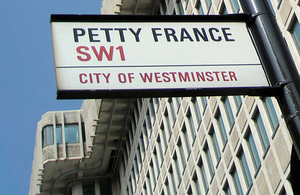 15 July 2019
The Lord Chancellor has today (15 July) announced a change to the way personal injury compensation payments are calculated – setting the Discount Rate at minus 0.25%.
Personal Injury Discount Rate increased to minus 0.25% following extensive review

New rate offers more balanced approach to compensate personal injury claims

The new rate will be reviewed within five years by an independent expert panel
When victims of life-changing injuries accept lump sum compensation payments, the final figure they are awarded is adjusted via a calculation known as the Discount Rate. This is to reflect the interest they can expect to earn by investing such payments, as well as the effects of tax, expenses and inflation on these returns.
Compensation awards using the rate aim to put claimants in the same financial position had they not been injured, including loss of future earnings and care costs.
The current rate of minus 0.75% has led to concerns that claimants were being substantially over-compensated, increasing financial pressure on public services that have large personal injury liabilities, particularly the NHS.
Today's decision comes after an extensive review – which formed part of reforms set out in the government's Civil Liability Bill 2018 – to ensure a more balanced approach that would give victims full and fair compensation.
It was informed by a public Call for Evidence which took a wide range of views, including from personal injury layers, insurers, investment experts and public bodies – with the new rate coming into force on 5 August of this year.
Under the Civil Liability Act 2018 the new personal injury discount rate will be reviewed within a five-year period, with future reviews advised by an expert panel and required within five years of the last.
Lord Chancellor and Justice Secretary David Gauke said:
"It is vital victims of life-changing injuries receive the correct compensation – I am certain this is the most balanced and fair approach following an extensive consultation.
"It is also right that the rate is informed by experts and reviewed on a regular basis to make sure this important calculation is accurate every time."
An announcement was made the London Stock Exchange this morning with information provided to industry bodies. A Statement of Reasons has been laid in Parliament alongside the rate announcement.
Gauke had previously told the market the new methodology for setting the rate takes account of actual returns available to investors, actual investments made by investors, allowances for tax, inflation and investment management costs, and wider economic factors.
However, the Association of British Insurers believe the new rate is bad news for insurance customers and taxpayers, with Huw Evans, Director General commenting on the announcement as follows:
"This is a bad outcome for insurance customers and taxpayers that will add costs rather than save customers money. A negative rate maintains the fiction that a claimant and their representatives will knowingly choose to invest their damages in a way that would guarantee losing them money. This will remain the lowest Discount Rate in the Western world, leaving England and Wales an international outlier at a time when we need to boost our attraction to international capital."
Martin Milliner, LV's General Insurance claims director said the decision will now only lead to further uncertainty in the sector, saying:
"At this level we believe that claimants will remain over-compensated, thus undermining the common law principle of 100% compensation. This means that uncertainty will remain for claimants, lawyers and compensators alike as this rate will be surely challenged once again at the next review in five years' time."
David Nichols, Zurich's Chief Claims Officer also believe's the new rate is "greatly disappointing," saying:
"Despite a lengthy engagement with the insurance sector on how to achieve a balanced rate, we are greatly disappointed with today's announcement.
"It's essential that claimants get the compensation they are entitled to following an injury. However, the Government's failure to change the discount rate to a balanced level will only serve to increase the cost and, therefore, affordability of certain types of insurance. This rate is likely to reduce both market coverage and affordability for higher risk customers such as road hauliers, commercial fleets, young drivers and older drivers. It will also have a financial impact on public liability cover for the public sector and businesses."
In an alternative view, the news was welcomed by Law firms though as they believe that Gauke has done well to stick to his guns.
"David Gauke is to be congratulated for resisting pressure from the insurance lobby to set a higher rate than this, which would simply have increased insurers' profits at the expense of badly injured people," said Ben Posford, head of the Catastrophic Injury Department, Osbornes Law.
"Investing damages that are needed to provide for an injured person is difficult at the best of times, and given the state of interest rates – which are likely to fall further in the event of a no-deal Brexit in particular – there was no justification for raising the discount rate any higher."