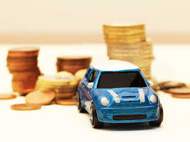 14 May 2020
The latest business impact of the coronavirus survey, conducted by the Office for National Statistics' (ONS) has revealed that 44% of companies do not have enough cash in the bank to last longer than the next six-months.
However, 27.1% of firms confident they have sufficient cash reserves to last longer than the next six-month period.
In this generic business survey, it was also revealed that 22% of companies had temporarily ceased trading over the two weeks between 20 April and 3 May.
In contrast, 6% of companies who said they were trading during the period said they had restarted operations following a pause in trading after the lockdown.
A quarter of companies said their turnover has fallen by more than 50% since the pandemic.
The ONS also revealed that 91% of businesses which paused trading said they have applied to furlough staff, compared with 72% of firms who have continued to trade.
Much of this is in line with our recent Body Repair Market survey that revealed cash-flow and repair volumes as the biggest concerns that face bodyshops.
The ONS survey looks at the social and business impact as well as providing a consumer/business confidence indicator.