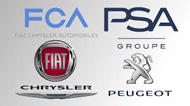 18 December 2019
 Fiat Chrysler Automobiles and French automaker Groupe PSA have announced an agreement to merge, forming the fourth largest global automaker by volume and third largest by revenue.
In a statement issued this morning (Weds 18 Dec '19), the companies said they had signed a binding Combination Agreement to create what they termed a "50/50 merger" led by current PSA chairman and CEO Carlos Tavares who will assume the title Group CEO and FCA chairman John Elkann who will become Group Chairman. The new company's board of directors will have 11 members, of whom a majority will be independent. 
The companies estimated annual sales of 8.7 million unit, combined revenues of "nearly 170 billion euros, or about $190 billion and an operating profit margin of 6.6% based on 2018 results.
In announcing the merger agreement, the companies pointed to greater efficiencies by "optimizing investments in vehicle platforms, engine families and new technologies while leveraging increased scale will enable the business to enhance its purchasing performance and create additional value for stakeholders." 
As an example the joint statement said two-thirds of production volumes would be concentrated on two vehicle platforms with about 3 million car each year built on the small platform and compact/mid-size platform.
"Our merger is a huge opportunity to take a stronger position in the auto industry as we seek to master the transition to a world of clean, safe and sustainable mobility and to provide our customers with world-class products, technology and services," said Tavares in the joint news release. "I have every confidence that with their immense talent and their collaborative mindset, our teams will succeed in delivering maximized performance with vigor and enthusiasm."
FCA CEO Mike Manley also weighed in, saying "This is a union of two companies with incredible brands and a skilled and dedicated workforce. Both have faced the toughest of times and have emerged as agile, smart, formidable competitors. Our people share a common trait – they see challenges as opportunities to be embraced and the path to making us better at what we do."
There was no mention of what role Manley will have in the new company.
The completion of the merger is expected to occur in 12 to 15 months according to the statement and must be approved by both companies' shareholders.
The new group's parent company will be domiciled in The Netherlands with shares listed on the New York Stock Exchange, Euronext in Paris and the Borsa Italiana in Milan, Italy.
For FCA this will be the company's fourth marriage since hooking up with Daimler AG in 1998. That stormy marriage broke up in 2007 when the German half of the relationship dumped its American partner in the so-called "merger of equals" which, in reality, was an abusive relationship where Chrysler was victimized by its corporate spouse. Marriage number two lasted less than two years when Cerberus Capital Management decided to jump into a business in which it had zero experience. The result was product development stagnation, thousands of job losses and eventual bankruptcy during the worst of the recession. 
In June, 2009, Fiat boss Sergio Marchionne swept in, finagling a deal where the Italian automaker would take over Chrysler for zero dollars with Fiat splitting ownership with the UAW retiree trust fund and the U.S. and Canadian governments. Fiat's stake started at 20% with the option to grow, the union's fund owned a 55% share and the two governments would each hold minority shares of Chrysler. Meanwhile, Chrysler's exit from bankruptcy was financed with a $6.6 billion loan from the U.S. Federal government.
By 2014, its federal loans paid back in full ahead of schedule, and Fiat having gained a 100% share in its U.S. partner, Fiat and Chrysler formally merged creating Fiat Chrysler Automobiles N.V., a publicly-held company trading on the Milan, Italy and New York Stock Exchanges.
But all along, Marchionne had his eyes on further corporate matrimony, not only for his company, but for the auto industry in general, insisting automakers were wasting billions of dollars developing many of the same components, platforms and technologies.
He famously espoused his views by surprising financial analysts and reporters during a conference call to discuss FCA's 2015 first quarter financial results with a presentation he titled "Confessions of a Capital Junkie." The 26-page slide deck called out the industry for its insular culture, building a case for consolidation in order to share costs and boost profits.
Attempting to put that philosophy into practice, Marchionne repeatedly approached General Motors Corp. CEO Mary Barra seeking to merge the two companies, but she and the GM board had no interest in even taking a meeting.
Last month, GM filed a federal racketeering lawsuit against FCA alleging the now deceased Marchionne was so bent on marrying the two companies, he led a conspiracy to bribe the UAW to give FCA favorable contract terms that would not be available to GM.
GM claims what it terms "FCA's manipulation of the collective bargaining process" during 2011 and 2015 contract negotiations "resulted in unfair labor costs and operational advantages." The idea being GM would then be forced to consider a merger with FCA.
FCA has called the lawsuit "a meritless attempt to divert attention from that company's own challenges."
The lawsuit comes in the midst of an ongoing federal investigation into misuse of funds and bribes that so far has resulted in charges against 13 FCA and UAW officials, and four former UAW and three FCA officials pleading guilty, including former FCA vice president and chief labor negotiator Alphons Iacobelli, who is now serving a five-and-a-half year sentence in federal prison.
When the suit was filed November 20th, there was speculation it could derail the FCA-PSA merger but that reticence from the French side apparently never materialized.
Indeed, with this consolidation, the wishes of the late Sergio Marchionne who died unexpectedly on July 25, 2018 will finally come to fruition— a self-proclaimed capital junkie's confessions to his solution for an industry's sins.  
Source: Forbes