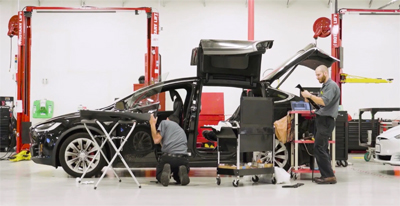 2 February 2021
Tesla has announced the official start of its in-house collision repair program aimed at slashing repair delays.
Some Tesla owners had been complaining about repair time after accidents for a long time after some customers had complained about that it can take months for repairs to be completed, with bodyshops saying that it's Tesla's fault because of delays for parts.
In 2019, Tesla said that it would launch its own in-house "Body Repair Centers" to reduce repair time.
However, the program has been limited to small repairs, like "paint scuffs and scratches, minor dents as well as bumper, fender, door, side mirrors, and other bolt-on replacements."
The program is expanding
Over the weekend, Tesla has been sending in-app notifications to owners to let them know that "collision repair is here."
On top of the previously mentioned repairs, Tesla now lists some more extensive collision repairs:
"Suspension and axle damage, front and rear bumpers, hoods, liftgate and side mirror caps, along with doors, wheels and all glass repair."
Owners can now schedule an appointment for those repairs directly through the Tesla app, and they will be performed in-house by Tesla technicians.
The automaker claims that it will result in an "optimized repair flow."
Source: Electrek