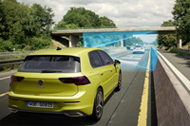 12 December 2019
Roll back to the 1980s and the UK body repair sector was frustrated by a lack of training, regulation and consumer protection – despite advances in car making and investment from progressive body repair business, says Thatcham Research.
Fast forward 30 years and Dean Lander, head of repair sector services at Thatcham Research, says it's a new world: technical skills, knowledge and behaviours count as much as experience. The career potential for a skilled bodyshop professional is as varied as a brand-new car options list. Today, the UK's bodyshop sector brims with talent and opportunities for the young and experienced.
"The career opportunities for an apprentice are endless," says Lander, "they can progress to vehicle damage assessment or motor engineering in the insurance and claims management world. Or go on to work in the supply chain or manufacturing." The choices are abundant.
Prepare to repair
Looking ahead, the cars we drive in the next five years will change more radically than they have in the past 50. While the challenges are enormous some fundamentals, such as repair quality, won't change says Lander.
Thatcham Research's insurer members must be confident of a safe, professional job. That's especially important given the eye-watering sophistication of advanced driver assistance systems (ADAS) and electric vehicles.
"ADAS' rise is more rapid than anything we've seen before," says Lander. "The adoption of ADAS is critical for consumer protection as we move towards Automated Driving. But if you're going to deal with ADAS post-incident, how does the industry ensure ADAS functionality is reinstated?"
That's a big challenge because there's no PC or Apple Mac divide – there's little standardisation. Instead, different ADAS protocols are buried into millions of car Electronic Control Units, even if some of the hardware is shared across some brands. This means that every car is different and reinstatement process vary between brands and models.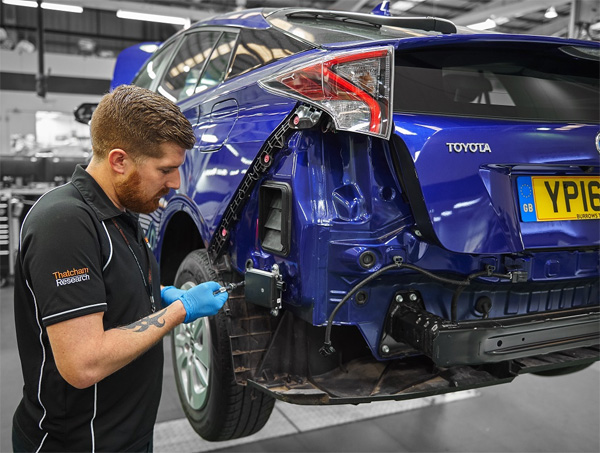 Ditching the dirt
For Thatcham Research, that means a conversation with carmakers in a timely manner is crucial. "In one way," says Lander, "the evolution of tech coming into this industry makes it a truly exciting place to work. It doesn't matter if you're designing the car, building it or repairing it. Every single aspect is exciting. It's a complete mindset change from what we all might recognise a traditional 'bodyshop' to be."
While many garages and workshops in the past were industrial, some now resemble pristine science labs.
In addition, the amount of in-car communication and connectivity has grown. Some cars now communicate with other vehicles, not to mention the road infrastructure itself. Which means some modern bodyshop professionals are expected to draw on skills closer to a communications expert than a panel beater.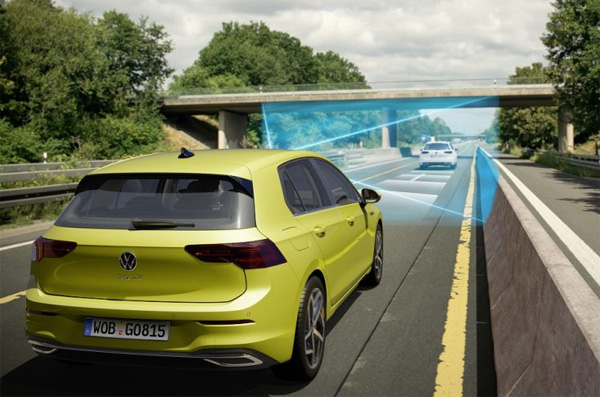 No more clichés
For electric vehicle (EV) bodyshop professionals, it's the same story, only heightened. "It's such a challenging work environment, so many thought processes are involved," says Lander. "The pace of EV change is, frankly, mind-blowing: all carmakers are racing to compete. Yet standards of electric vehicle safety, for technicians and staff is lagging. Training technicians and other staff to be safe is paramount." It's a high voltage training and skills point Lander makes repeatedly.
"But if you go down and have a conversation about bodyshops in the pub with a mate, they might talk about a business run by the Mitchell brothers, underneath the arches, as seen on soaps."
"If you go to a good modern body-shop business today, you don't drop the keys off at the roller-shutter doors," Lander goes on. "You might expect to be greeted by a customer service expert, your car will most likely need to be plugged into a high-tech system, data will be sourced from digital computing systems, the time and processes are more likely to be managed by a digital bodyshop management system. Everything is systemised and paperless. It's a real engineering industry in a way it wasn't previously."
In other words, the modern car technician is a highly trained professional with skills matching the advanced repair technology they work with day in, day out. Critically, their expertise ensures car safety systems, both passive and active, are reinstated to their original condition.