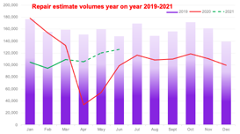 9 April 2021
Here at Trend Tracker, we have seen some encouraging signs in the last week, which we have brought together in this update.
Firstly, courtesy of the Office for National Statistics, encouraging signs covering COVID-19 with an astonishing 1 in 2 people now having had a vaccine. An upward trend of online job adverts, courtesy of Adzuna, particularly in the Transport and Logistics industry and a change in our working patterns with more people travelling to their place of work to carry out their work.
Moving to closer to our industry, courtesy of CAPS and Audatex, more signs of growth, along with the recent news New Car Sales are up in March 2021 (vs. March 2020) the Repair volumes are also up, higher than March 2020 but still c30% down on 2019. This is further verified when considering the CAPs data ("CAPS Data displays claims volume exchanged and may differ from data that shows new claim volumes") which is trending up and is 33% below January 2020 baseline.
Trend Tracker have been predicting repair volumes using the month-on-month Audatex data and other insights, it is worth noting we were less than 4% out on the March prediction, the green dotted line in the Repair Estimates graph is our continued prediction for 2021.
Contacts:
(press) Kelly Dalwood T: 07743 068666 E: kellydalwood@gmail.com
(Industry Insights) Steve Thompson T: 07789 617226 E: stevethompson@industryinsights.co.uk                                                  (Trend Tracker) Paul Sell T07887626082 E: Paul@industry-insights.co.uk