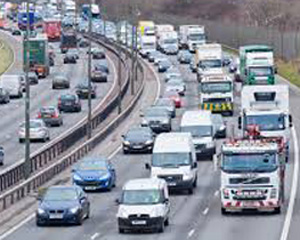 19 March 2021
Trend Tracker Update – Motor Claim Volumes
Here at Trend Tracker we use the very latest information from our partners to look back and forecast.
As well as producing the most comprehensive industry report of its kind, we also watch industry trends, every day. COVID-19 has changed the way we live and work around the world, with very specific impacts on the Motor Claims Industry from the reduced mobility created through lockdowns.  We track available data such as .gov, apple, google mobility etc. as well as other market sources, but importantly have access to critical sources of data from our partners Audatex.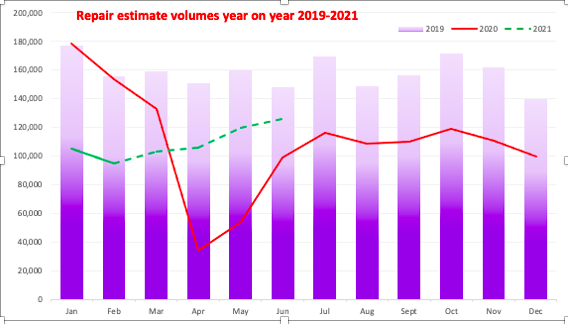 Source – Audatex, prediction (dotted line) courtesy of Trend Tracker
The graph shows the stark reduction through 2020 vs. 2019 of Repair Estimates, specifically the impact of first lockdown in April and how volume tracked considerably below the pre- COVID position throughout last year.
The last complete month of data (February) still has Repair Estimates tracking at 61% of Feb 2020 and Feb 2019.
Steve Thompson MD of Industry Insights stated,
"We are very pleased to be able to present this forecast to the market, this is only possible due to our strong relationships, experience and knowledge that we have been able to gather such valuable insights.  Our Partner relationships cover all areas of the supply chain and as such have assisted in us presenting a considered forecast that is relevant to the motor claims market as a whole.  Audatex have long since been a valued Partner of Industry Insights and Trend Tracker also, their base line data has proven invaluable to calculate forecasted volumes.  Our forthcoming report on the post Covid-19 world will continue to explore how businesses have managed through and are emerging from this pandemic.
To conclude, I am personally confident that the industry is now turning the corner and there is the proverbial light at the end of this long tunnel, in fact I am sure with a fair amount of pent-up demand in the economy, all business will see a very positive jump in their business during the second half of this year.
The time is now to prepare for the capitalisation of this much needed opportunity and tracking these trends has never been more important to assist the management of balancing capacity with demand."
Our new owners, Industry Insights, has brought access to a range of experts in the industry and through gathering opinions together with our experience we have made best estimates of how repair volumes will increase, as we now emerge from the latest lockdown (dotted line below) and we will continue to track against this and update throughout the year.
Partner views and observations-
Chris Wright, Regional Managing Director at Audatex stated
"Claims volumes have naturally dropped as lockdown restrictions increased and travel was restricted, we have seen an increase in severity as vehicles were able to travel at higher speeds on less congested roads. Our research is indicating that as the lockdown restrictions are eased people will inevitably want to visit friends and family and will want to take the opportunity to get away from their homes for holidays or short breaks, and we feel these breaks will be within the UK, due to low vaccination rates across Europe and what is increasingly looking like a third wave across mainland Europe.
This increased mileage will inevitably drive an increase in claims, we feel to at least 100% of pre COVID volumes for the summer months, then dropping back to about 85% – 90% as we enter the autumn and winter months.
When we combine our data, working with Industry Insights and Trend Tracker, we do have a fantastic opportunity to provide forecasts that will inform business decisions, and we wish Steve, Sharon, Paul and the team a great future with the latest addition to the Industry Insights stable."
NBRA Executive Director Chris Weeks added,
"Repair volumes driven by accident claims are the oxygen for our industry and critical to its ongoing success.  Bodyshops have limped through 2019 with incredible ingenuity and resilience.  With looming VAT repayments and bounce back loans becoming due the industry is in dire need of a shot in the arm.
Predicting where volumes will go will still be a bit of a guess, but now the schools are back we will be watching closely how this trend changes, without a doubt the roads are more congested.  At no point did we have a full national lifting of restrictions last year and as hospitality opens in May and all restrictions lift in June NBRA estimate we will see claims move up to c. 87% of 2019 in line with Trend Trackers predictions."
Since its launch, The Future of the UK Car Body Repair Market report has been purchased by many of the leading bodyshop groups, independent bodyshops, motor insurers, motor manufacturers, accident managers, claims solutions providers, distribution companies and other suppliers connected with the supply chain.
Please see the main report for significant detail on the Body Repair Market, accessing this special offer code of MIM20 to purchase the report at the discounted rate of £995+VAT –
https://www.trendtracker.co.uk/pre-order-the-uk-vehicle-body-repair-motor-insurance-market-2020-2023-report-1-user/