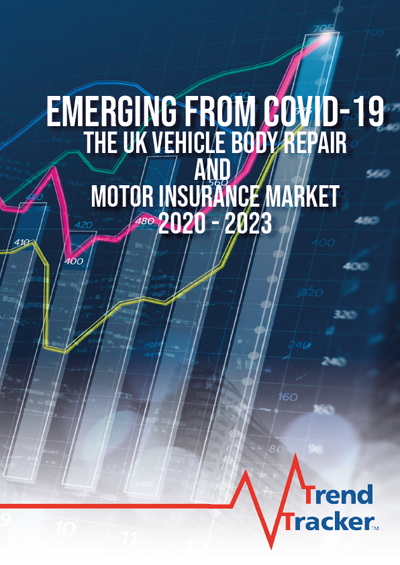 10 November 2020
We are pleased to launch the latest Trend Tracker report: Emerging from Covid-19 – The UK Vehicle Body Repair and Motor Insurance Market 2020-2023.
The brand-new edition runs to 230 pages with over 100 tables and charts and will once again prove to be essential reading for vehicle manufacturers, insurers, investors, advisers, operators, suppliers and others who need to understand the risks and opportunities facing each of the key protagonists in a punishingly competitive market.
The report fully updates our in-depth coverage of the structure, volume and dynamics of the vehicle body repair market in the UK.
It analyses demand – and supply-side data from 2010 to date – and forecasts future trends to 2023. Detailed analysis and commentary is provided.
Contents:
Section 1 – Preface
Section 2 – Executive Summary
Section 3 – Report Sponsors and Partners
3M; Auto Body Projects; Solera Audatex, Entegral, Industry Insights; Thatcham Research; ARC360; NBRA; PPG
Section 4 – Market Background and Developments
UK economy overview; GDP/debt and the impact of Covid-19, Brexit timeline and potential impact post 2020; new and used car sales and trends; motor finance and the effects of the pandemic; travel patterns; future mobility trends; consumer confidence; car ownership trends; UK car parc; LCVs.
Section 5 – Market Size, Dynamics and Trends
Total market size by volume and value; average repair costs; segmentation of labour, parts and paint; segmentation of insurer funded, fleet funded and private repairs; leading UK bodyshops, repair networks; supply chain; repair supply chain.
Section 6 – Bodyshop Market Survey
Available workshop capacity; the effects of Covid-19; government support measures; work volume and revenues; insurance company and supply chain assistance; business confidence; repairer key learnings from the Covid-19 pandemic.
Section 7 – Repairs by Vehicle Make
Average repair cost trends; by volume by vehicle manufacturer; average labour, parts and paint content by vehicle manufacturer, £ and %; gross profit and margin by make of vehicle.
Section 8 – Revolution in Vehicle Technologies
Emerging regulation, automation and electrification, insurance industry requirements for managing ADAS, the challenges presented for cleaner motoring, vehicle connectivity and future vehicle repairability.
Section 9 – UK Motor Insurance Trends
Market background, regulation and reform; motor insurance profit and loss COR; gross written premium; market leading insurers; motor policies and premiums – influencers and trends; price comparison websites; motor claims volume and frequency trends; total loss vehicles by category; motor salvage categorisation; motor insurance fraud; FCA investigation into dual pricing; complaints; UK leading motor insurers; insurance company key learnings from the Covid-19 pandemic
Section 10 – Strategic Outlook and Future Industry Trends
Technology; the digital age; the consumer revolution; the economic outlook; motor insurance and repair challenges; motor claims trends and strategic outlook. 
Appendix – PowerPoint Executive Summary