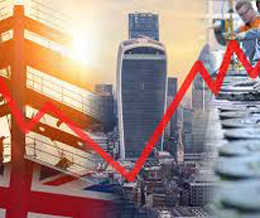 9 August 2019
Britain's economy shrank 0.2 percent in the second quarter of 2019 amidst growing uncertainty over a no-deal Brexit; the first quarter of contraction since the last quarter of 2012.
Economists had forecast a period of stagnation –  0% growth – following a 0.5 percent growth in the previous quarter, primarily due to manufacturers' stockpiling ahead of a 29th March Brexit, whch helped to boost output.
The Office of National Statistics said UK GDP had been "particularly volatile" so far in 2019 because of the changes to activity sparked by the original Brexit date, which didn't occur.
The UK data has been released at at time when other world economies are showing some signs of slowing. Figures released in France point to an even sharper slowdown in industrial production during June, which echos similar data from Germany out earlier this week (their GDP had also contracted in the second quarter).  News that China's industrial growth in July hit a 17-year low, had already spooked markets in Europe.
Given this, the pound slipped when the data was released, raising fears of a recession, which officially occurs when the economy contracts in two consecutive quarters.
Against this backdrop, the governing Conservative party were urged not to take any further unnecessary risks with an already weak economy.  This has appeared to resonate as Sajid Javid, the recently appointed chancellor, announced an accelerated spending round, pledging to increase school budgets, recruit more police officers, crack down on crime, plus increase spending on the National Health Service.
It has been suggested the government should apply focus on raising productivity and improving public services. Many detractors also believe the Conservative Party have another way to give the economy a shot in the arm; by avoiding the cliff edge of a no-deal Brexit!