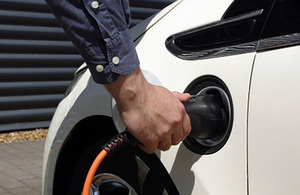 6 January 2020
The latest sales-figures releaed by the Society of Motor Manufacturers and Traders (SMMT) showing records broken and growth well above the industry as a whole.
Registrations of pure-electric cars almost reached 5,000 units in December 2019, up 220% on the final month of 2018. It gave the fuel type a market share of 3.3%, almost matching it's previous record high of 3.4% set in August 2019.
PHEVs finished strongly too as models returned to the market. Less than 500 units behind pure-EVs, plug-in hybrid cars took 3% of the market, and registrations were up 22% on the previous December.
Combined, pure-EVs and PHEVs set a new market share record of 6.3%, comfortably ahead of the previous record of 5.8% set just the previous month in November 2019. Considering the previous standard market share until summer 2019 for plug-in models was between 2.5% and 3%, the jump in electric registrations compared to the rest of the market is significant in the last half of 2019.
Only September – a traditional strong month for new cars as a whole because of the new registration plate – dipped below 4% market share since July, with August and October at 4.4%, and September close at 3.8%.
It all means that 2019 as a whole has seen significant growth, ending on 72,770 electric registrations for the 12 months. That's up 29% on 2018's final figure of almost 60,000 units, and representing a market share of 3.2% for 2019.
Pure electric registrations ended on more than 37,800 units for the year, with a market share of 1.7%. They compare very favourably to to 2018's figures, of less than 15,500 registrations – up 144% – and 0.7% market share.
PHEVs didn't perform as strongly, down 18% for 2019 with just under 35,000 registrations and 1.5% market share. Compared to 2018's total of more than 44,000 units and 1.9% market share, it's clear the fuel type struggled a little in 2019. This is largely put down to a lack of supply and removal of older models from sale, with newer PHEVs now coming on-line. This is reflected in much stronger performances in recent months.
What is clear is that 2019 has proved a significant step forward in the pure-electric car for the UK market. A combination of increased supply, longer driving ranges, and additional choice has combined to get more drivers behind the wheel of electric models. What looked in August/September time as high figures, but possibly a positive blip, have been confirmed as the new normal, and pure-EV sales are going from strength to strength.
Compare pure-EV's growth with that of petrol at 2.2%, conventional hybrids at 17.1%, and diesel's continued decline at -21.7% for 2019, and it's clear that the past few months will only prove a stepping stone to an even stronger 2020, rather than a new plateau for the market.
Source: SMMT and Zap-Map