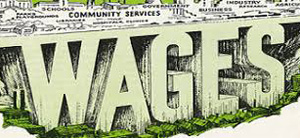 13 August 2019
Wages are growing at their fastest rate for 11 years, according to official figures released today!
The Office for National Statistics (ONS) said that wage growth reached 3.9% for regular pay excluding bonuses in the year to June. Including bonuses, weekly earnings grew by 3.7% to reach £538 per week.
The ONS believes the jump partly down to a deferred 2018 wage rise for public health workers, which doesn't normally come at this time of year.  In real terms – after adjusting for inflation – total pay is estimated to have increased by 1.8 per cent compared with a year earlier.
Matt Hughes, deputy head of labour market statistics at the ONS, said: "Excluding bonuses, real wages are growing at their fastest in nearly four years, but pay levels still have not returned to their pre-downturn peak."
UK employment increased by 115,000 to reach a record high of 32.81 million but unemployment hits 1.33 million
Data from the ONS also revealed the unemployment rate has increased for the first time since the middle of last year growing by 31,000 to 1.3 million in Q2 2019, and the jobless rate rose to 3.9 per cent. Some analysts suggest that Brexit uncertainty and the economy may be starting to take their toll on the labour market.
In the three months, April to June 2019, overall employment increased by 115,000 to reach a record high of 32.81 million (significantly higher than the 65,000 rise economists predicted) resulting in the overall employment rate remaining unchanged at 76.1% over the same period.
Chancellor Sajid Javid hailed today's jobs figures saying, "Every person deserves the chance to succeed and provide for their families through a steady income. I'm pleased to see 2.9 million more people are in work every day since 2010, wages are rising at their fastest in more than a decade, and people across the UK are taking home more of what they earn.
"Thanks to the hard work of the British people and the government, we can further invest in our public services.
"And today's figures are another sign that despite the challenges across the global economy, the fundamentals of the British economy are strong as we prepare to leave the EU."
Tej Parikh, chief economist at the Institute of Directors, suggested that some of the growth in jobs is linked to the current economic uncertainty, saying, "With investment in machinery and technology often deemed too risky right now, businesses have sought to bring on board more staff to help lift output – maybe the labour market is now reaching its peak".
Gerwyn Davies, senior labour market adviser at the CIPD, also commented, "Employer demand for workers remains robust, which is partly being met by a relatively sharp increase in the number of non-UK nationals in employment. A significant proportion of migrants workers are filling skilled vacancies, especially in healthcare, which may not otherwise be filled.
"Non-UK citizens are therefore playing an essential and complementary role to the demands of the UK labour market. It is key that the UK's future immigration system is flexible and responsive to the specific skills needs of the UK economy."
Davies added that, especially in sectors such as construction, which saw total earnings increase by 5.9% over the year, the tightening labour market is "is clearly putting pressure on firms to raise wages for staff".