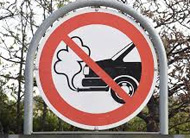 4 February 2020
The Prime Minister, Boris Johnson, will today launch COP26, a two-week conference seen as a moment of truth for the 2015 Paris Agreement to combat global warming.
Johnson will outline his pledge for an earlier ban on new petrol and diesel cars, as he hits back at claims that his attempts to lead the world in tackling climate change are in "chaos". His call to end the sales of new polluting cars in 2035, rather than 2040 will disappoint his independent climate advisors who want the government to act by 2030.
Johnson said in a statement ahead of today's speech: "Hosting COP26 is an important opportunity for the UK and nations across the globe to step up in the fight against climate change.
"As we set out our plans to hit our ambitious 2050 net zero target across this year, so we shall urge others to join us in pledging net zero emissions."
He will call for international efforts to reach net zero as early as possible, including through investment in cleaner technology, preservation of natural habitats and measures to improve resilience to the impact of climate change.
Diesel and petrol cars continue to account for approximately 90% of new car sales in Britain, and some prospective buyers of greener models are worried about the limited availability of charging points, the range of certain models and the cost. Electric vehicles accounted for only 1.6% of sales in 2019 but are forecast to grow by 260% in 2020.
In response, Mike Hawes, SMMT Chief Executive: commented:
"It's extremely concerning that government has seemingly moved the goalposts for consumers and industry on such a critical issue. Manufacturers are fully invested in a zero emissions future, with some 60 plug-in models now on the market and 34 more coming in 2020.

"However, with current demand for this still expensive technology still just a fraction of sales, it's clear that accelerating an already very challenging ambition will take more than industry investment.

"This is about market transformation, yet we still don't have clarity on the future of the plug-in car grant – the most significant driver of EV uptake – which ends in just 60 days' time, while the UK's charging network is still woefully inadequate.

"If the UK is to lead the global zero emissions agenda, we need a competitive marketplace and a competitive business environment to encourage manufacturers to sell and build here. A date without a plan will merely destroy value today.

"So we therefore need to hear how government plans to fulfil its ambitions in a sustainable way, one that safeguards industry and jobs, allows people from all income groups and regions to adapt and benefit, and, crucially, does not undermine sales of today's low emission technologies, including popular hybrids, all of which are essential to deliver air quality and climate change goals now."
Steve Nash, chief executive of the Institute of the Motor Industry, welcomed the earlier deadline but said 'urgent investment' was needed in EV skills training to support the goal.
"Currently, just five per cent of the sector is appropriately qualified to work on electric vehicles, so in the next 15 years the race will be on to get the rest of the workforce up to speed.'
"Those who aren't properly trained or equipped to work on electrified vehicles would be risking serious injury or potentially fatal shock. It will be interesting to see, therefore, if there is any focus on additional funding for technician training in the spring budget next month."
RAC head of policy Nicholas Lyes said: "Manufacturers face a great challenge in switching their production from conventional powertrains to cleaner electric technology. More electric vehicles will also require a great deal of investment in charging infrastructure – particularly for those who rely on on-street parking outside their homes."