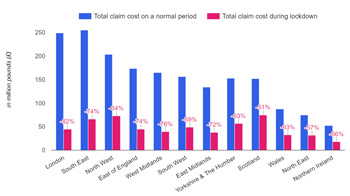 2 July 2020
£1,289,596,480 is the estimated amount of savings on payouts realized by the UK car insurance companies during Covid-19 lockdown, as drivers stayed home between 23rd of March and 31st of May, according to Hello-safe comparison website.
69.4% drop in car accidents
With the UK locked down from the 23rd of March, most Brits were forced to stay at home for a whole 77 days. As a consequence, daily commutes came to a halt, meaning fewer people on the roads, and a lower probability of accidents occurring. Repairs also fell dramatically as a result with an 80.2% decrease being recorded when compared to the first three months of the year.
How much did car insurers save during the Covid-19 lockdown?
Overall, insurance companies could have saved up to £1.289 billion thanks to the change in driving habits caused by the lockdown measures.
Greater London accounts for the highest savings, with an 82% drop in the number of car accidents. That corresponds to a £204,4 million reduction in the sums to be paid out by insurers.
Usually, motor insurers put aside ⅔ of premiums to cover road accidents. However, the reduction in the number of accidents has cut that  proportion significantly. One big car insurance player expects it will save as much as half the funds it expected to have to pay out for personal injury claims in 2020.
Highest savings on over 86 years old premiums
The average motor accident claim value is highest for people aged over 86.  Since people from this age range were the most concerned with Covid-19 lockdown measures, with most of them 'shielding', they were far less likely to be seen on the road in April and May.
As a consequence, the number of car accidents involving people in this age group drastically dropped, as did the sum spent by insurance companies on such coverage.
Will companies refund their customers?
The change in driving habits during lockdown also modified the risk assumptions used by insurance companies to calculate insurance premiums. Because of the reduction in traffic, British drivers were less at risk than expected at the beginning of the year and thus represented a lower cost to insurers. As a result, the average premium fell to £697 – that's an average £56 drop since February 2020.
Other insurers already implemented refund schemes. Admiral was the first to announce a £180 million programme including a fixed £25 refund to each of its car and van insurance customers. It was quickly followed by LV, which decided to refund up to £50. Other insurance companies are planning to refund only customers that were specifically affected by the pandemic, such as those who lost their jobs or were placed on a government furlough scheme by their employer.
Whoever they're insured with, people can save money on their car insurance by withdrawing unnecessary cover. In addition, if they're not driving as much as they used to because they're teleworking, they can reduce their mileage, which will bring down the premium.
Antoine Fruchard, insurance expert and CEO at Hello-Safe.co.uk
"With most people stuck at home, their cars have inevitably stayed in the garage. Now that the lockdown is over and people are going out again, the number of cars on the road could soon be back at pre-Covid levels."However, it is likely that customers will question why they continued to pay such high insurance premiums while they weren't able to drive. It will be interesting to see if all the insurance companies will make refunds. Competition between them may be increasing in the coming months, and that means customers should see a slight drop in car insurance premiums".