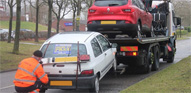 27 February 2020
The Motor Insurers' Bureau (MIB) can confirm the UK's 2 millionth uninsured vehicle has been seized.
MIB data provided exclusively by UK police forces showed in January 2020, more than 2 million uninsured vehicles had been seized since powers to stop and seize uninsured vehicles were introduced in 2005.
Every 20 minutes someone in the UK is injured by an uninsured or untraced 'hit and run' driver, with many suffering life-changing injuries. This equates to 26,000 injuries each year or nearly one in every five road traffic casualties.
Because of high collision rates and established links to wider road crime posed by uninsured drivers, ongoing enforcement against the issue provides considerable support to Government road safety objectives.
Figures from the Department for Transport show that UK roads are among the safest in Europe, with decade-on-decade reductions in road traffic casualties being recorded, despite a rising population.
"The UK's two millionth uninsured vehicle seizure is a significant milestone testament to the collaborative and determined work of the police, government authorities and industry to help make roads safer and fairer for all. While we welcome this news, we recognise challenges remain ahead and will continue working closely with our partners to help reduce the impact of uninsured driving." – Anna Fleming, Chief Operating Officer at MIB.
Last year, over 137,000 vehicles were seized across the UK because they had no insurance, with London, Birmingham, Manchester and Bradford among the worst affected areas.
MIB supports police in the crackdown against uninsured driving through the provision of the Motor Insurance Database (MIB) – a record of all active motor insurance policies in the UK. Using the MID, police ANPR (Automatic Number Plate Recognition) cameras can scan passing vehicles' licence plates to see if they appear to be uninsured and make further enquiries at the roadside.
Once a driver is found to be without insurance, they can have their vehicle seized and can face court with an unlimited fine and a driving ban amongst the possible outcomes.
The not-for-profit organisation also works alongside DVLA to issue automated warnings to registered vehicle owners that appear to be uninsured via the Continuous Insurance Enforcement (CIE) scheme.