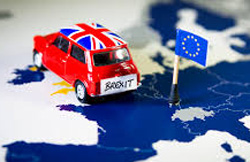 5 March 2019
There have been several developments over recent days from vehicle manufacturers (VMs) over the possible issues they face, should a no-deal Brexit occur. The VMs who employ thousands of people have issued stark warnings of a UK exodus in the event of a no-deal Brexit, as uncertainty and panic spreads through the industry.
BMW has said that it might be forced to stop making the iconic Mini brand at its Cowley plant; a move that would puts over 4,500 jobs at risk. It would also be the end of over one hundred years of car making at the site in Oxfordshire. Peter Schwarzenbauer, the German car giant's board member responsible for Mini and Rolls Royce cars, told Sky News the firm would "need to consider" moving production from the UK as the company could not absorb the extra costs they would inevitably face."This [no-deal Brexit] would be really a huge burden for the Mini brand. If this would come, which is the worst-case scenario, we'd need to consider what it means for us in the long run. For Mini, this is really a danger," he said. Separately, he told Reuters that some engine manufacturing, currently undertaken at Hams Hall in Birmingham, could be lost to Austria.
Toyota's head of European operations, Johan van Zyl, said a negative Brexit outcome could put future investment at its UK factory near Derby at risk. He told the BBC that "hurdles" are too high it would undermine Toyota's competitiveness. He added, it was vital that there was frictionless trade with the European Union. He said, ""If it's a bad Brexit, of course it will become very difficult. It will have a negative impact on competitiveness." However, he admitted that with just over three weeks before the UK is due to leave the EU, "we thought that by now we would have had a decision already about what is going to happen. We are still hopeful that we will have a realistic outcome that will give us frictionless trade and that will give us no tariffs and barriers between Europe and the UK."
PSA, which owns two Vauxhall plants in the UK, has also sounded the alarm bells about an uncontrolled Brexit, adding to the fears for the UK automotive sector. Maxime Picat, the operational director for Europe suggested the imposition of tariffs would threaten the UK's efforts to become a world leader in battery technology, as manufacturers move from the internal combustion engine to electric vehicles.
"If the UK market is closed to the European one, it's a bit hard for me to understand how production of such batteries can benefit only for UK needs," he said.
"Keeping a coordinated continental European automotive industry as it is today is the best chance for the UK. Today I cannot say there will be no plant closure …We will try and find any solution to avoid it."
Bentley, which is owned by Volkswagen, said trade tariffs could either lead to job losses in an effort to cut costs, or prevent Bentley from increasing the size of its workforce.
Adrian Hallmark, the chief executive of Bentley said, "Brexit is not good news if there's no deal. It does hurt us, but it doesn't kill us. We don't plans to cut jobs, but if we lost volume then we wouldn't need all the people that we currently have."
It's understood that Bentley has increased its reserve supply of parts from two days to seven to cope with potential Brexit-related disruption. It says that it has also tested new supply routes to avoid expected congestion at Dover.
Ralf Speth, the boss of Jaguar Land Rover, had already stated that a no-brexit outcome would lead to the closure of plants and major job losses as he warned that some exposed industries would have "no way to survive a hard Brexit".
In addition, but apparently not Brexit related, Honda announced the closure of its Swindon car plant in 2022, resulting in a loss of approximately 3,500 jobs. Honda confirmed it was "consulting with all staff, however there is not expected to be any job losses, or changes in production until 2021. Honda is clear the decision is based on global trends and not Brexit, as all European market production will consolidate in Japan in 2021," said the local MP, Justin Tomlinson.
Responding to the increasing concerns from vehicle manufacturers, the shadow business secretary, Rebecca Long-Bailey, said: "The uncertainty caused by this government's shambolic Brexit negotiations is causing untold damage. With only 24 days to go until exit day, the car industry still doesn't know what the impact will be on their supply chains and their ability to manufacture in the UK."