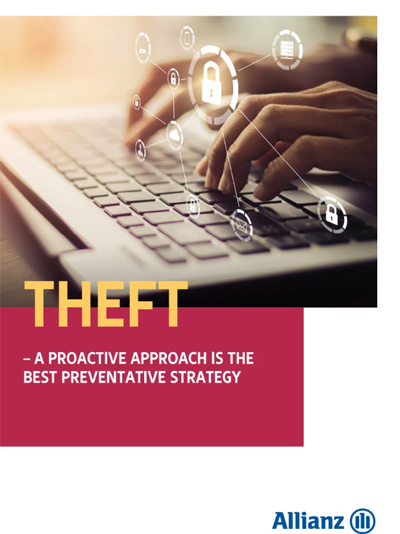 14 June 2019
Allianz has today released their latest White Paper – Theft – a proactive approach is the best preventative strategy – which incorporates a view on motor theft, asking "are we experiencing a theft epidemic?"  With numbers of insurance claims rising across many areas including motor theft, tool theft and construction plant theft, insurers certainly suspect this is the case. The white paper looks at why and where incidences of theft are particularly high and considers particular trends to be aware of.
MOTOR THEFT
In November 2018, the Association of British Insurers announced the cost of motor theft claims – some £271 million – rose by a third on the previous year, with the number of claims settled rising by 11% over the same period. The trade body said that the increase was in part linked to keyless vehicle theft.
Technology is generally viewed as a way of boosting security, but the arrival of keyless cars have enabled them to be stolen at lightning speed via so-called 'relay crime'; indeed videos exist of this actually occurring.
Thieves can steal a car in under a minute, using readily obtainable devices, without the need to break in or pick locks. Socalled 'relay amplifier' devices can be purchased online for a couple of hundred pounds. Typically, one criminal stands by the targeted vehicle with a transmitter, whilst an accomplice remains near the house with an amplifier device which can detect a signal from the key fob inside the property. This signal is sent to the transmitter, which acts as the key and unlocks the vehicle.
This type of theft is growing in the UK, rising by 9,000 in 2016 to a total of 43,308 in 2017, according to DVLA figures. Certain areas of the country also appear to be more heavily targeted than others with rates in the West Midlands, for example, increasing by 80%.
While relay theft kits are readily available to buy on websites, there have been calls to outlaw them. This would make it for easier for the police to act, as currently an arrest can only be made if a thief is caught in the act or it's proven there is intent to steal.
Keyless thefts are also being employed to steal vans, causing havoc for small businesses and indeed those running commercial fleets. Data from the Tracker portal for 2017 showed 82% of vans were stolen without the keys last year, which was an increase of 44% over 2016.
PREVENTING CAR THEFT
Tried and tested rules still apply in terms of making sure nothing of value is left in vehicles and to park in well-lit parking areas, ideally where there is CCTV. At home, driveway parking posts can be an option and steering wheel locks may be viewed as an old-fashioned deterrent, but they can be off-putting to criminals who want to steal a vehicle quickly. Relay crime can be prevented if keys are kept away from the front of the house and stored in a metal container or a so-called Faraday pouch which is easily obtainable and relatively inexpensive. It's also possible for the radio signal to be switched off; in some cases this is as easy as double clicking, so a dealer or logbook can provide details. A tracker device will also increase the chance of recovery if a vehicle is stolen.
Source and full report: Theft – a proactive approach is the best preventative strategy