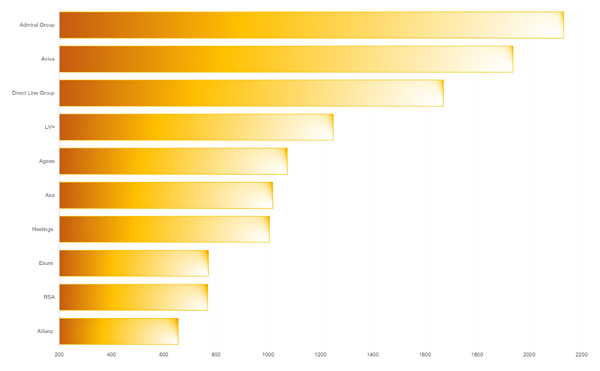 10 November 2019
In our latest market update, Trend Tracker reports the leading five UK motor insurers continued to have considerable market influence in 2018, with a combined market share of 44.7% equating to just over £8 billion Gross Written Premium (GWP) between them.
If we extend our analysis to the leading ten UK motor insurers, the market share figure increases to 68%, or £12.3 billion GWP.
UK's motor insurer GWP was recorded at circa 20.75 billion euros in 2018, which converted to approximately 18 billion pound sterling, an increase of 2% compared to 2017.
The largest motor insurer, Admiral Group continues to lead the market with a gross written premium of £2.13 billion (up from 2.01 billion in 2017), followed by Aviva with £1.94 billion (up from 1.71 billion in 2017) and Direct Line Group recording £1.67 billion (the same figure as 2017).  Combined, the three UK motor market leaders have 31.8% of the total market share.
Insurance purchases via so called 'aggregator' or 'comparison websites' continue to have a strong influence on consumer behaviour,  according to the report 'Digital insurance in 2018' published by Mckinsey & Company.
Mckinsey & Company reports the value of motor insurance GWP in the UK has grown pretty much annually since 2007, stating that as of 2017, the estimated value of GWP through such websites was approximately £3.65 billion …and growing!
Whilst GWP revenues are reported to be rising slightly in 2019, motor insurers continue to operate in an extremely competitive environment and face regulatory changes that add pressure to the market, such as the Civil Liability Act (Ogden reforms) and the Financial Conduct Authority (FCA) looking at dual pricing, in addition to rising accident repair costs.
Trend Tracker recently reported that LV= has gained the most market share in the first half of this year, according to Consumer Intelligence's Insurance Behaviour Tracker, which has tracked the renewal decisions of 6,000 motorists in the H1 2019.  As the market leaders continue their strong market influence, a total of seven out of the 10 brands which grew their market share by the highest amount were also amongst the top 10 largest brands overall, demonstrating their commitment to a competitive market and also the advantages of scale.