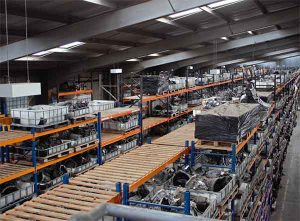 23 July 2019
In the latest Trend Tracker Report on the UK Body Repair Market, it was revealed as part of a bodyshop survey that 'green recycled parts' are being used by 41.7% of respondents as an alternative to OE parts, with  48.9% stating 'no' they do not use green parts.
Market analyst and Trend Tracker's director, Mark Bull FIMI, states within the report;
"It strikes us that bodyshops are becoming more accepting of green parts, which if correct, is all credit to the salvage sector in addressing early concerns around on-time distribution and quality of part received, thus building the bodyshops' confidence in purchasing green parts.
"What could be the driver for this apparent increase in green 'recycled' parts? According to the 41.7% of respondents that use green parts, private customers – 41.7% – are the biggest driver, with motor insurers – 33.3% – being a close second reason. Several insurers have encouraged fitment of green parts via pilot schemes for many years for environmental and cost reasons and they appear to be paying dividend in both departments. Accident managers were recorded at 5.7% with 'other' being recorded at 19.5%."
Two other driving forces are also increasing the pace of change for the acceptance of green recycled parts. In a recent article, David Williams, Managing Director of Underwriting and Technical Services at AXA Insurance cites two potential factors of a growing acceptance; the public may see green parts more favourably, and Brexit-linked shortages may encourage their adoption.
These factors and that of the vehicle dismantling and recycling industry better presenting the benefits of re-using parts that have provenance to the public, insurers and bodyshops alike, are bearing fruit in an ever environmentally aware society.
So, have green parts found their time?  According to Ian Hills, director of the huge Lancashire-based vehicle dismantler – Hills – they absolutely have!
Ian points to his own steady sales growth in warrantied used parts via his Green Parts Specialists (GPS) platform as evidence of the shift in public mood and buying habits.
"We launched GPS under the radar to allow us to test out our systems and gauge the market's reaction," says Ian, adding, "but it's taking off rapidly and the trade is getting right behind it."
GPS now has more than 20 other dismantlers sharing his advanced technology platform, which includes a web site, app and call centre, to log parts for sales to consumers and the trade.
In tandem, more than 200 bodyshops and repairers nationwide now regularly purchase via the GPS portal, enjoying guaranteed next day delivery and Hills' own warranty on all parts.  Exact matches to OEM parts are made via the vehicle's VIN.
Another boost to the increasing use of recycled parts is that of one of the UK's leading insurers, Ageas, trialling GPS's performance, and Ian believes the concept of green parts has reached a tipping point.
"Now that a leading insurer has gone to its roster of body shops and demonstrated the benefits of our approach the whole thing will go mainstream and become the accepted way to source lower cost, OEM parts," Ian predicts.
Robin Challand, Claims Director at Ageas, points to the environmental benefits as a key attraction.
"These parts have been named green parts because not only do they save a car from being written off, using this type of part saves a new part from having to be manufactured. It is better than recycling, it is reducing demand for precious resources and giving new purpose to good parts that would otherwise be discarded," he says.
"The most commonly replaced parts are front and rear plastic bumpers and headlamps. These are replaced on average in 25 per cent of repairs and so we can see a real opportunity to use this environmentally friendly solution in more than 15 per cent of repairs each year, keeping our customers on the road in their cherished vehicles," added Robin.
The whole of the supply chain is now seeing the true benefit of utilising recycled green parts, which can make accident repairs more economical, reducing the customer churn that comes with a written-off vehicle, and also bodyshops are being encouraged to fit green parts in 'shared savings' schemes with insurers, boosting their margins. "Everyone wins, including the end-consumer, who gets a repair done more economically and has the satisfaction of knowing they've done their bit for the environment," Ian concludes.