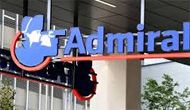 8 February 2020
Admiral, the UK's largest motor insurer has predicted higher-than-expected profit when their 2019 full-year results are released on 5 March, which is in part due to higher reserves and commission revenues, following the a change to personal injury insurance rules in July 2019.
In a trading update, Admiral said it expects to post a group profit before tax for 2019 in the range of £510m to £540m, an approximate 6% to 13% increase on their 2018 result.
The insurer said: "The higher than expected profit is due to unusually positive development, during 2019, in the cost of UK motor bodily injury claims from a number of prior underwriting years. This has led to elevated reserve releases and profit commission revenue.
"Clarity over the new personal injury discount rate (the 'Ogden' rate') in July 2019 led to an increase in the number of large claims settling in 2019 compared to recent years which contributed to the level of releases. There has been no change to Admiral's prudent approach to reserving."
The insurer also highlighted that profitability continued to be impacted by "higher levels of claims inflation during 2019". They are the latest to issue such warnings after Saga and Hastings also signaled a challenging market due to claims inflation as premium income remains fairly static.
Staff will be rewarded with a bonus to celebrate the positive result as the insurer said: "To recognise the contribution of Admiral's employees to the strong results, all group staff (excluding executive directors) will receive a special cash bonus of £500 (approximately £6 million in total) in the first half of 2020."